When it comes to expanding beyond PCs, Intel has recently shown its determination to not just talk, but also walk.
To be sure, Intel still derives about 55% of its $59.4 billion annual revenue from PC-related products. But under the leadership of CEO Brian Krzanich, the company has also begun to seize the latest, greatest tech opportunities in areas including AI, VR, the cloud, even drones.
Solution providers stuck in a rut should take inspiration from Intel. The tech world is expanding way beyond PCs. For those willing to change, that's introducing exciting (and potentially lucrative) business opportunities.
Walking the walk
So what has Intel actually accomplished in the last week? Quite a lot, and in these areas:
> AI: Putting the money where its mouth is, Intel has invested $1 billion in companies that are working to advance artificial intelligence. "We are 100 percent committed to creating the roadmap of optimized products to support emerging mainstream AI workloads," CEO Krzanich wrote in an online editorial this week.
In the same editorial, Krzanich also pointed out that Intel's Nervana AI portfolio provides technology for AI developers. That includes the Nervana DevCloud, introduced earlier this week. It's a cloud-hosted hardware and software platform for developers, researchers and startups. They can use Nervana DevCloud to sandbox, learn and get started on AI projects. And for member of the Intel Nervana AI Academy, using DevCloud is free.
> Self-driving cars: Earlier this week Intel announced that it has been collaborating with Waymo, the autonomous car development company spun out of Google. Waymo's latest vehicle, the Chrysler Pacifica Hybrid mini-van, features Intel gear for sensor processing, general compute and connectivity. The bigger goal: safer cars and fewer road accidents.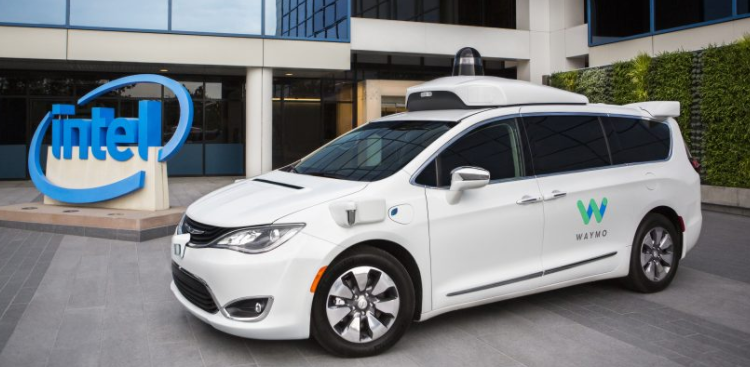 Waymo says its self-driving Chrysler Pacifica could be on public roads later this year.
> Data center: In Beijing this week, Intel gave its first public demo of a 10nm wafer, codenamed Cannon Lake, which it plans to use for a future field-programmable gate array (FPGA) product code-named Falcon Mesa. Intel says Falcon Mesa will have applications for the data center, wireless 5G, network function virtualization (NFV), and other areas.
Also at the China conference, Intel announced that it will soon ship the first 64-layer, triple-level cell 3D NAND solid state drive (SSD) for data centers. The product has been shipping to Tier 1 cloud suppliers since last month, Intel says. Now "broad" shipments are set for later this year.
> Drones: Last week Intel's Shooting Star drones performed at Dodgers Stadium in Los Angeles with a movie-themed light show. The company's Shooting Star drones, reportedly able to display 4 billion color combinations, are designed specifically to entertain, and it seems that's just what they did. Intel sent up 300 of the drones to showcase images from the hit Hollywood movie "Wonder Woman," including its "double W" logo: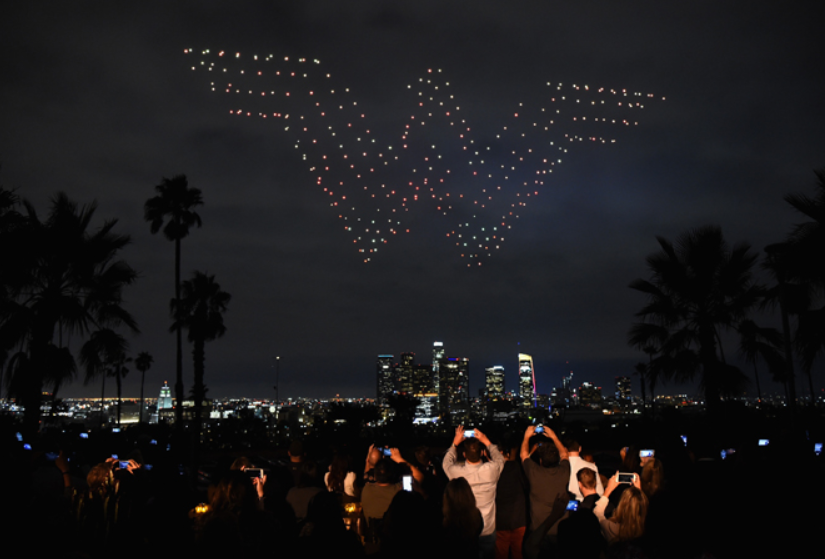 Put it all together, and you can see that Intel's push to move beyond PCs is quickly gaining speed, momentum and impact. How about yours?
Back to top