As you may have heard, HP has agreed to acquire Samsung Electronics' printer business for $1.05 billion.  The question is, Why?
It's all about copiers. HP believes the copier business is worth about $55 billion a year, and badly in need of innovation. More specifically, HP wants to replace those copiers with multifunction printers (MFPs).
Samsung, in turn, has built up an MFP business based on A3 printers. These devices handle paper up to 16.5 by 11.7 inches, commonly used for posters, photo prints and the like. HP's share of the A3 printer market is weak — by its own admission, well below 10 percent.
Enter Samsung. HP and Samsung have been working behind the scenes, so today HP was able to introduce a portfolio of 16 printers with A3 format copier capabilities. HP intends to offer them at prices up to 40 percent lower than the competition. "We have the pricing, flexibility — everything we need to disrupt this market," HP CEO Dion Weisler recently told CRN.
The acquisition, assuming it is receives regulatory approval, is expected to close within the next year. Some 6,000 Samsung employees will reportedly join HP.
Partner Play
Partners will play an important role in HP's new "next generation A3" strategy.
Speaking earlier today from HP's Global Partner Conference in Boston, Nick Lazaridis, president of HP EMEA, said the company will be moving from a business that is 80 percent partner driven to one that is 87 percent partner-driven.
"Money is made and lost based on the cost of service," Weisler told CRN. "With A3 we are dramatically reducing the parts and service costs, and that will translate into either increased margin for our partners, or they can pass those savings on to the end customer in terms of cost per page."
Speaking today at HP's Global Partner Conference, Weisler added, "We could have made this announcement anywhere, but we chose to do it here, among the partners who have helped us so much. This isn't just our acquisition. It's your acquisition."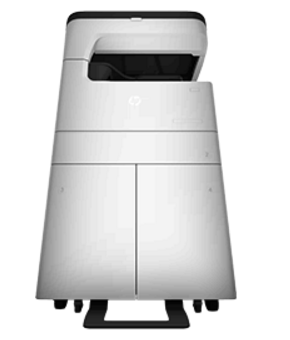 HP's new PageWide Pro MFP prints up to 60 pages/minute.
As part of its marketing push, HP is emphasizing three main benefits of its new A3 MFP printers:
> Affordable color: HP will offer A3 printers in four price categories: 25 pages per minute (PPM), 35 ppm, 45 ppm, and 55 ppm. It intends to offer the fastest in-class print speeds for each price span.
> Uptime: HP expects cloud-based, Printing as a Service solutions will become an increasing part of the business, lowering downtime.
> Security: HP JetAdvantage Security Manager offers policy-based compliance, security monitoring and management. HP Instant-On Security feature automatically validates the security settings after a device is either rebooted or added to the fleet for the first time. HP Access Control Printing Solutions is a server-based way to protect sensitive documents with authentication, authorization and pull-printing capabilities.
HP last month reported that Q3 revenue from ink and toner supplies fell 18 percent, while printer hardware unit sales dropped 10 percent. So Enrique Lores, GM of HP's printing and personal systems, told the Global Partner Conference attendees today, "We need to get this business back to growth, working with all of you."
Back to top