Do you serve clients in the public sector? If so, do you realize how quickly they're moving to the cloud?
In a new survey, 82 percent of U.S. public-sector cloud adopters say their organizations plan to spend more on cloud computing next year than they do this year. And looking ahead further, respondents expect to have moved 60 percent of their applications to the cloud over the next five years, up from just 35 percent of applications in the cloud today.
That's from a report released today by MeriTalk, a public-private partnership focused on government IT. The report, entitled Destination Cloud, is based on MeriTalk's survey of 300 federal, state, local and education (SLED) IT decision-makers in the U.S. whose agencies have adopted cloud computing.
Other key findings from the MeriTalk report:
> Private clouds are preferred by 78 percent of SLED respondents when it comes to information judged "sensitive."
> Public cloud services are preferred by 89 percent of respondents when their top priority is cost savings or speed of deployment.
> Security is still the top concern around public clouds. 61 percent of respondents say privacy and security concerns are the biggest drawback to public clouds. Nothing else came even close.
> Many apps still need modernizing before they can be migrated to the cloud. Respondents specifically pointed to the need to modernize email (cited by 41 percent), backup services (36 percent), web hosting (33 percent), and collaboration (29 percent).
> Applications in the cloud vary by sector, but overall, web hosting, collaboration and email are the most commonly used. This chart, courtesy of MeriTalk, breaks it down: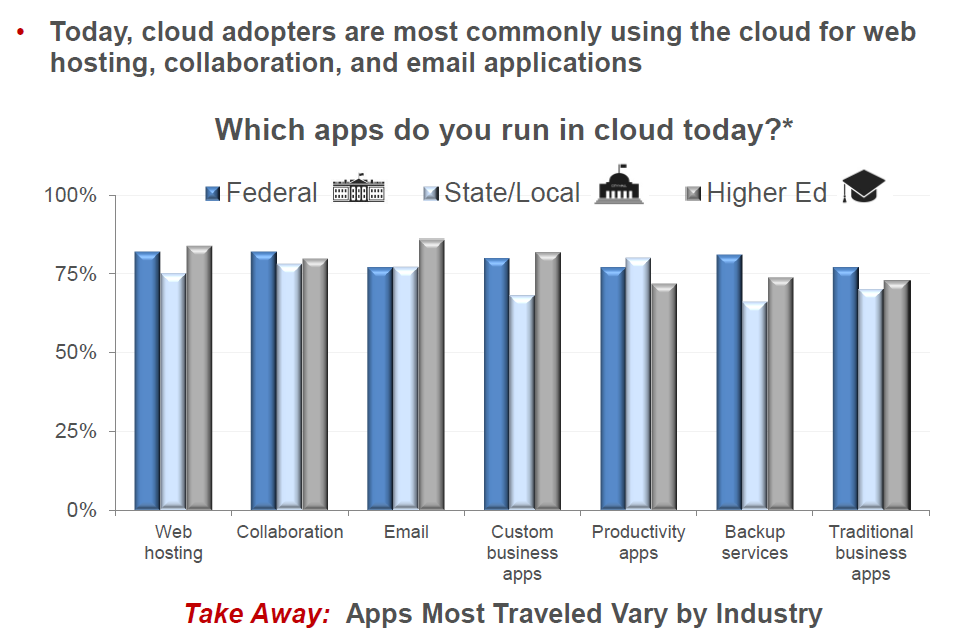 State of the State
Ready to drill down to the state government level? That's the subject of another report released this week. It's from three authors: professional association NASCIO, audit firm Grant Thornton, and trade group CompTIA. Entitled The Adaptable State CIO, the report finds a new role for state CIOs: brokers of shared services.
Indeed, more than two-thirds of U.S. states now outsource at least some IT infrastructure operations, the report finds. And nearly the same percentage also use a managed-services model for either some or all of their IT operations.
Also, four out of five states (80 percent) now outsource at least some IT applications and services. That's up dramatically from just 42 percent who outsourced in 2010.
Cloud, naturally, plays a big part in state IT. In the survey, over 70 percent of the U.S. state CIOs said they have "cloud first" policies, whether formal, informal or in development. Similarly, three-quarters of respondents said they have, or are developing, cloud-migration strategies. Here's a detailed breakdown, courtesy of the report's authors: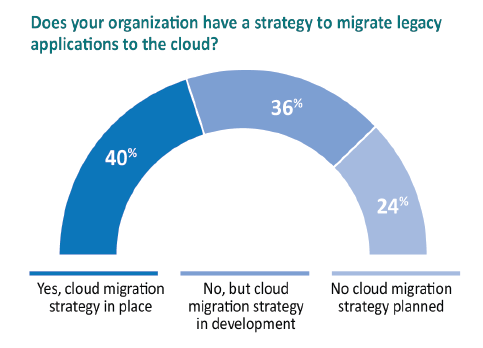 Where are the next opportunities? When asked which services they have planned for future cloud implementations, U.S. state CIOs responding to the survey topped their lists with disaster recovery (cited by 50 percent), storage (49 percent), digital archives (39 percent), HR/payroll (37 percent) and electronic records (34 percent).
Back to top