Microsoft this week made two sets of announcements that demonstrate the company's commitment to the whole wide world of computing, ranging from light and mobile 2-in-1 devices to the enterprise cloud.
Enterprise Partners
First up is the company's expansion of its Surface Enterprise Initiative, announced yesterday.
This partner program, originally launched a year ago, aims to help large enterprises get the most out of Microsoft's Surface devices by working with partners for support and services, vertical-industry applications and flexible purchase/deploy programs. Partners that have joined the program in the last year include Dell, Booz Allen and CDW.
Now Microsoft says it will expand the program with investments that help partners create and provide services and support worldwide in 4 main areas:
> Configuration and deployment: These services could include imaging, asset management, provisioning and integration.
> Enhanced replacement and exchange: For example, next-day replacements, advanced exchanges and onsite services.
> Logistics and warehousing: Custom shipping, order-consolidation and the like.
> Next-Generation services and support: Here, partners will work directly with clients to create new Surface-based solutions.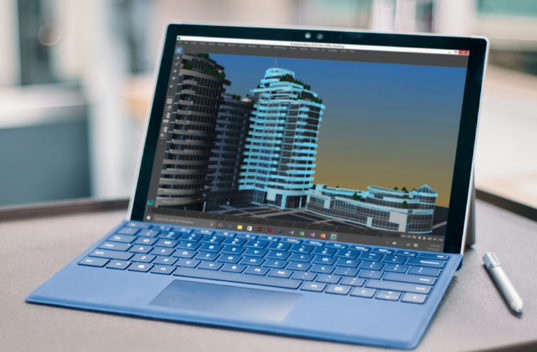 Microsoft Surface 2-in-1 devices are increasingly offered "as a Service."
Microsoft also said its 2-month-old Surface as a Service program, which lets customers shift their device expenses from a CapEx to an OpEx model, is growing nicely. Tech Data and Ingram Micro are among the reseller and distributor partners who have signed on already. And one partner, Also of Germany, has reportedly recruited 300 resellers.
Next month, Microsoft adds Ingram Micro will expand its participation by launching a program called Surface as a Subscription. Customers will be able to essentially "subscribe" to a device, paying a monthly fee over a set period, rather than buying the device outright. Microsoft says the program will offer customers a 20 percent cost savings over two years. Longer terms will be available, too.
Tools for the Secure Enterprise
Addressing the enterprise cloud, this week, Microsoft is holding its big (20K+ attendees) Ignite conference in Atlanta. At the show, Microsoft yesterday announced Windows 10 and Office 365 features for what the company calls "the new secure productive enterprise."

> Starting Oct. 1 — that's this Saturday — businesses will be able to get Microsoft's Secure Productive Enterprise (SPE) with Windows 10 Enterprise, Office 365 and Enterprise Mobility & Security. And they'll be able to deploy it either on-premises or in the cloud. Offered in two versions, SPE includes tools for mail and social, authoring, meetings and voice, security and more.
> Windows Defender Application Guard, a security stack for Microsoft's Edge browser. This new tool employs virtualization technology to protect web users from advanced attacks.
> Threat-intelligence sharing between Windows Defender Advanced Threat Protection and Office 365 Advanced Threat Protection. The former is a recently introduced cloud-based service that detects, investigates and responds to advanced attacks on networks. The latter is an email filter that protects again spam, viruses, malware and advanced attacks.
By sharing information, Microsoft says, these two tools can now help IT security pros identify and follow the complete chain of attack, from email to network endpoints.
> Windows Upgrade Analytics is a new, free service that helps IT pros analyze their environments in preparation for updating (or replacing) systems to Windows 10. It gathers information about installed hardware and software, then analyzes the data, and finally provides a plan for updates and (if needed) remediation.
Selected solution providers and other Microsoft partners like the announcements, reports CRN. "Microsoft is…removing the fear and uncertainty of security in the cloud," Ric Opal, senior director of SWC Technology Partners in Oak Brook, Ill., told CRN.
Michael Goldstein, CEO of LAN Infotech in Ft. Lauderdale, Fla., also spoke with CRN, adding: "The timing couldn't be better for the security enhancements."
Related content:
Why your data-center clients are rushing to the cloud: McKinsey
Gartner to PC suppliers: Change — or get out of the business
Back to top