The Internet of Things is really taking off.
Just last week, we reported on a new survey of IT decision-makers, conducted by research firm IDC, which found 55 percent calling IoT "strategic" and 21 percent "transformative." IDC also found that about one in three (31%) IT pros already have IoT solutions in place, and nearly half (43%) expect to deploy IoT in the next 12 months.
This week, IDC published a regional look at IoT implementations, and it was similarly stunning. Fully one in four (25.2%) of Asia-Pacific organizations — not including Japan — have already launched IoT solutions, IDC says. Nearly half (46%) plan to deploy IoT in the next 12 months. And roughly two-thirds (62%) call IoT "strategic" to their ability to compete.

In related news, SAP, the Germany-based enterprise software supplier, today announced plans to invest €2 billion (that's about $2.24 billion) over the next 5 years on IoT solutions for government and business customers. This ambitious program includes the establishment of a global network of IoT labs, the introduction of a new package aimed at helping customers jump-start their IoT solutions, and several key acquisitions.
"With billions of connected devices, we now have the potential to reshape society, the economy and the environment," said SAP CEO Bill McDermott in a statement.
On the IoT acquisitions front, SAP says it has just acquired an Italian supplier of enterprise IoT solutions, PLAT.ONE, and will add its capabilities to the SAP HANA Cloud Platform. SAP also recently acquired another IoT firm, Fedem Technology, a Norwegian specialist in engineering analysis and building software.
Wearables in the Workplace?
Yes, says ABI Research. Just yesterday, the research firm issued a prediction that global shipments of wearables will more than double in the next 5 years, growing from 202 million units this year to more than 501 million in 2021. By then, ABI expects, 17 percent of all shipments will go to users in the enterprise.
What's the appeal of wearables in the workplace? Stephanie Lawrence, an ABI research analyst, says they give workers immediate, direct access to important information. "This hands-free approach saves time," she adds, "allowing staff to become more efficient and, ultimately, saving companies money."
Self-Driving Cars? Maybe Not Yet
Kelley Blue Book, the source for used-car prices, today released findings from its automonous-vehicle survey. It seems many Americans aren't ready for self-driving cars. Among other things, Kelley found that just over half (51%) of U.S. respondents prefer to keep their hands on the wheel, maintaining full control of their vehicle, even if it's not as safe for other drivers.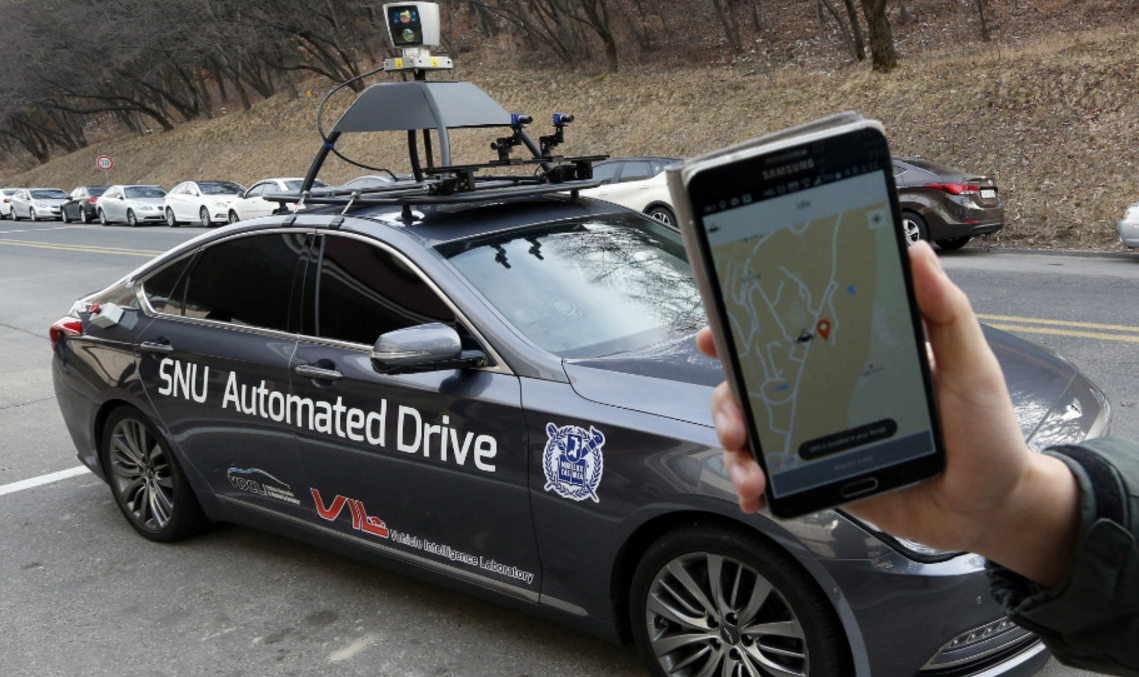 Hyundai's self-driving car has been tested on public roads in South Korea.
Other key findings of the Kelley survey:
> Six out of 10 respondents admitted they know little or nothing about autonomous vehicles. 
> 80 percent of respondents believe people should always have the option to drive themselves.
> Yet nearly two thirds (63%) believe the roadways would be safer if self-driving cars were standard.
> More than two thirds (67%) of younger Gen Z (12-15 years old) respondents believe they will see fully autonomous vehicles in their lifetimes, compared with only 1 percent of Boomers (aged 51-64).
Coolest IoT of the Month
As September draws to an end, CRN today posted a slideshow of the month's 10 coolest IoT products.
High on CRN's list: Neato Robotics' new smart-connected vacuum cleaners, the Apple Watch Series 2, and Sen.se's ThermoPeanut Smart Temperature Monitor.
As CRN editor Lindsey O'Donnell notes, "vendors are broadening the scope of the IoT market across the board." That's for sure!
You may also enjoy:
IoT zooms from concept to reality
Intel intros SSD for data center, IoT applications
Back to top