Browsing celebrity websites is a harmless if time-wasting activity, right?
Wrong. A new report finds clients who search celebrity websites may be exposing themselves to dangerous malware. Cybercriminals use celebrity searches as a way to plant traps, infect computers and steal personal information.
The report, published this week by McAfee and Intel Security, explains that cybercriminals create phony sites that appear on the search results pages next to legitimate sites. When your client looks for a top celebrity on Google or other search engines, the results may include links to not only legitimate sites, but also trap sites filled with nasty malware.
To see how bad the problem is, McAfee used its WebAdvisor — software that scans sites to rate them with green, yellow or red signals — and browsed the internet for celebrity sites. With cable-cutters in mind, McAfee also did searches pairing the names of popular celebs with words including "torrent" and "HD download."
Based on these tests, McAfee compiled what it calls its list of the "most dangerous celebrities." The rankings indicate which celebs generated the most dangerous search results. Courtesy of Intel Security and McAfee, here's the new top 10 list: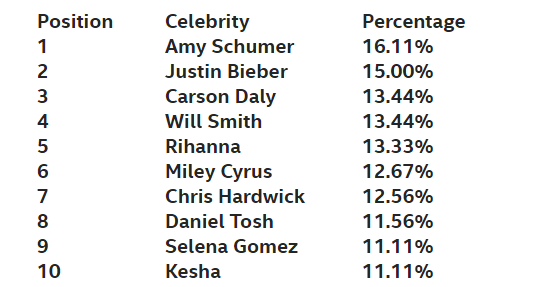 Those percentages indicate your client's likelihood of clicking on a malware trap when they search for a particular celeb. For instance, search "Amy Schumer" and you have a 16 percent chance of clicking on a baddie.
Other search phrases are even worse. Search "Amy Schumer torrent," McAfee says, and you'll get a 33 percent chance of connecting to a malicious website. That's a one-in-three chance — not good!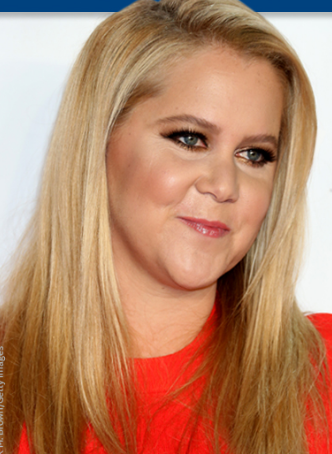 Amy Schumer: #1 dangerous celeb online.
What to do? The McAfee report offers several suggestions, which you may want to pass along to your clients:
> Watch media only from its original source. For example, if you want to watch "The Daily Show" online, get it from the official Comedy Central site. An acceptable Plan B would be a trusted site like Hulu or YouTube.
> Avoid file downloads. McAfee says searches including the word "torrent" (for popular P2P file-sharing sites) were the most dangerous. Cybercrooks can embed malware in authentic files, so a file that seems safe may actually be infected.
> Protect your personal information. If a celebrity site asks for a password, credit-card number, home address or Social Security number, don't give it. Such information should be shared only with well-known, trusted sites.
> Use security protection for browsing. These software tools scan webpages for malware and potential threats, then give users a warning before they click too far. Naturally, McAfee recommends its WebAdvisor, and it's even offering a safe and free download here.
Help your clients stay safe online. If they must waste time browsing celebrity sites, make sure they're at least being careful.
Back to top