The early days of the cloud are over. Now comes the time for greater savvy and refinement.
A new report from IT nonprofit association CompTIA finds that more than 90 percent of companies are already using some form of cloud computing. As a result, the report says, they're ready for a "refined understanding and a rebalancing of self-assessment around cloud activity."
The new Trends in Cloud Computing report, released late last week, is based on CompTIA's online survey, conducted this past July, of 500 business and IT executives. The authors say the margin of error is +/- 4.5 percent.

Among the CompTIA report's key findings:
> One third (33%) of respondents describe their use of cloud computing as being in full production, down from 42 percent in 2014. A slightly larger group (38%) describe their use of the cloud as noncritical. About one in five (21%) say they're still experimenting. Only 8 percent say the cloud has transformed their IT.
> Private clouds dominate. Nearly half (46%) of respondents said they've installed private clouds. Over a quarter (28%) said they have public clouds. And about the same number (26%) have hybrid cloud installations.
> Software as a Service (SaaS) is the most common cloud platform, cited by nearly three-quarters (74%) of respondents. It was followed by Infrastructure as a Service (IaaS), cited by 42 percent. Platform as a Service (PaaS), is used by a third (33%).
> Top benefits of the cloud, says respondents, are cost reduction, reducing capital expenses, reducing operational complexity, and modernization of legacy IT.
> The most common applications for the cloud are: email (cited by 51% of respondents), web presence (46%), business productivity (45%) and collaboration (39%). But as the following table, courtesy of CompTIA, their usage has changed — in some cases, dramatically — over the last two years: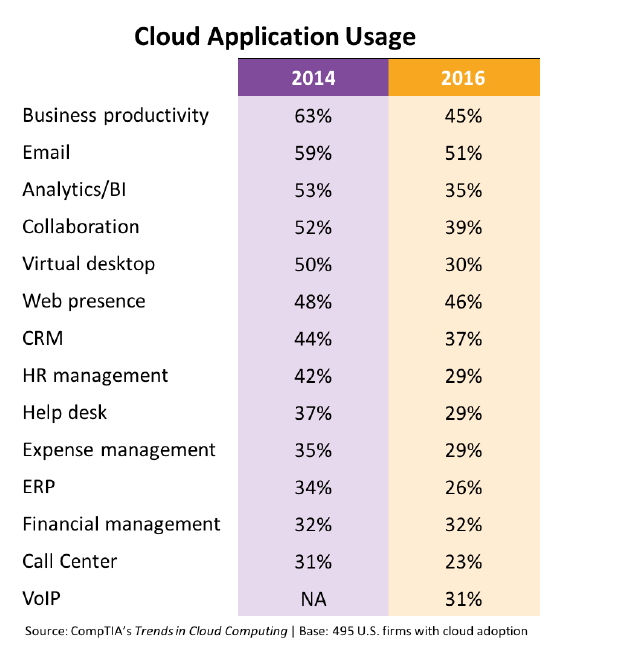 Don't be discouraged. It may seem the cloud is losing steam. But the reality, says Seth Robinson, a tech analyst with CompTIA, is that "the cloud market is undergoing refinement as users gain greater appreciation and understanding of what cloud computing entails."
In other words, your clients are getting smarter about the cloud. And smarter clients? Those are good clients.
You may also enjoy:
Why your data-center clients are rushing to the cloud
Public-sector IT moving to the cloud: survey
Miss our live chat on data-center modernization? Here's your summary
Blog Category:
dc-Cloud and Data Centers
Back to top