With the PC business in decline now for the last 2 years (according to this new Gartner report), you may be wondering, where's the growth? One answer is drones.
The global market for drones is expected to hit $12 billion in 2021, up from about $8 billion last year, predicts a recent report from BI Intelligence. Much of that will come from governments, specifically defense. But in the consumer market, shipments will quadruple over the next five years, BI Intelligence forecasts, thanks to competition on prices and new technologies that make drones easier to fly for beginners.
Another emerging market is drones for business. According to the U.S. Federal Aviation Administration (FAA)'s June update on what it calls "unmanned aircraft systems," business uses for drones include crop monitoring and inspection, power-line inspection, aerial photography and aiding rescue operations.
Intel Jumps In
Intel may not be the first name you associate with drones, but in fact the company has been pretty busy in this space:
> Earlier this year Intel showcased a consumer drone, the Yuneec Typhoon H with Intel RealSense technology. This drone retails for just under $1,900.
> Last month, Intel received a waiver from the FAA authorizing the company to fly as many as thousands of drones.
> And yesterday, Intel announced its first commercial drone system, the Falcon 8+. The Falcon is called a system because it includes not only a drone vehicle, but also a controller, the Intel Cockpit, and a "smart battery" power supply, the Intel Powerpack. The target market, Intel says, includes drone service providers (yes, that's a thing) and other industries in North America.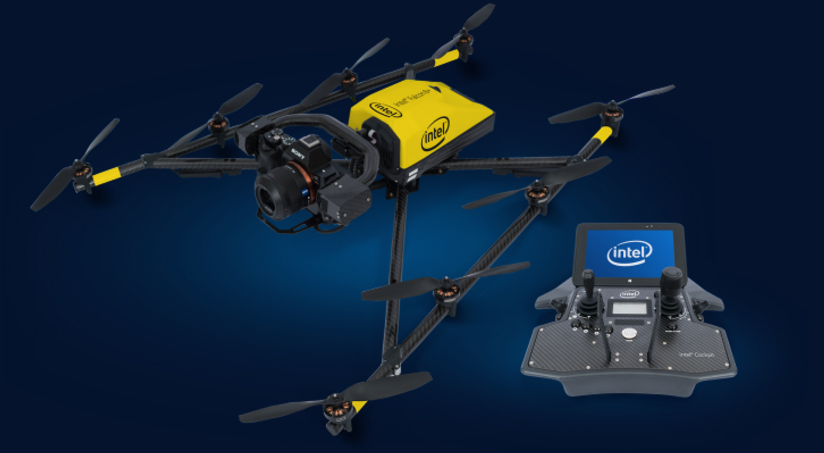 Intel's new Falcon 8+ drone and its Cockpit ground controller are designed for commercial use.
As you might expect from the chipmaker, Intel also offers drone components for developers:
The Intel Aero Compute Board is a $400 developer kit that packs a quad-core Intel Atom processor, storage, communications and I/O on a single card. 
The Intel Aero Ready-to-Fly Drone is a development platform that includes a quadcopter drone, Intel Aero Compute Board, Intel RealSense technology and the Linux OS. It's set to ship by year's end, and prices haven't yet been announced.
The Intel Aero Vision Accessory Kit, retailing for about $150, offers three cameras for drones: RealSense, 8 megapixel and VGA. The cameras attach directly to the Intel Aero Compute Board, and cables are included.
So if you're looking for a new market — especially one that's marked for fast growth — you might look into drones.
Also see:
Why Intel RealSense is really catching on
IoT: New tools for smart buildings
Blog Category:
Advanced Technologies-channel
Back to top