Intel today announced a new generation of Atom processors for the Internet of Things. Formally known as the Intel Atom processor E3900 series (codename "Apollo Lake"), the CPUs were introduced this morning at the IoT Solutions World Congress in Barcelona.
Intel says its new processors have been designed from the ground up to support the fast growth and increased complexity of IoT. Potential applications are said to include automotive, industrial, video, manufacturing and retail, especially at what's known as "the edge."
As you probably know, Intel is determined to be a major player in the IoT market, and the company has already made serious progress. For its third quarter, ended Oct. 1, Intel reported IoT group revenue of $689 million, a nearly 20 percent increase from the year-earlier period.
And earlier this year, when Intel CEO Brian Krzanich outlined the company's five core beliefs, he included IoT, saying: "The many 'things' that make up the PC Client business and the Internet of Things are made much more valuable by their connection to the cloud." Krzanich also said that Intel will develop memory and programmable solutions to deliver "entirely new classes" of IoT products.
Core Features for IoT
Intel says its new Atom processor E3900 series will help organizations realize the full potential of IoT. To do that, the CPUs offer several new technical features, including: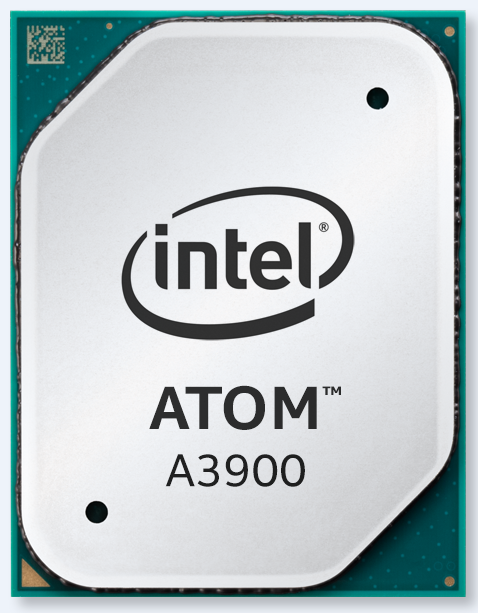 > Fast CPU performance (up to 2.5 GHz), fast graphics and media, image processing and a new feature called Intel Time Coordinated Computing (TCC) Technology, which synchronizes peripherals and networks of connected devices.
> New, high levels of security, determinism and image/video processing, the latter thanks to 4 vector units. And Intel says 3-D graphics performance is nearly 3 times faster than its previous generation.
> The ability to handle a large number of sensors and tasks across extended temperatures of -40°C to 110°C (-40°F to 230°F).
> Small, efficient form-factor: The new CPU, Intel says, delivers 1.7 times more computing power than the previous generation at the edge of IoT applications.
As of now, the new Intel Atom processor E3900 series includes three SKUs: Intel Atom x5-E3930, x5-3940 and x7-3950. Devices using the new Intel processors are expected to start shipping in the second quarter of next year, Intel says.
See related Intel resources:
Overview: Intel Atom processor E3900 series
Fact sheet: Intel Atom processor E3900 series
Video: Changing the world through IoT technology
Blog post: Enabling the next generation of smart and connected IoT devices
You may also enjoy these recent BCF posts:
Digital signage: drive IoT to create new revenue streams
IoT news roundup: SAP, Kelley survey, cool new products
With IoT getting real, what's in it for solution providers?
Back to top