Need help getting more clients over to Windows 10? If so, you're not alone. Gartner, the research and advisory firm, recently pointed out that global PC sales have declined every quarter for the last two years, the worst drop in the industry's history.
But help is on the way. Microsoft today introduced a new version of its Win10 PC operating system that incorporates 3-D, augmented reality (AR) and virtual reality (VR). The supplier also introduced 2 new hardware systems: a desktop aimed at professional designers, and a notebook PC for those seeking ultra-long battery life and high performance.
Windows 10 Creators Update
That's the name of the new Windows version announced today. Shipments are set to being in the spring of 2017, and Microsoft says it will be a free upgrade on all new and old Win10 systems.
The key improvements are said to come in 3 areas:
> "Mixed reality": which means AR, VR and holographic 3-D. Users of Creators Update will be able to capture, print and share in 3-D, and they'll also be able to use both AR and VR. To support this, partners including Acer, ASUS, Dell, HP and Lenovo will ship compatible VR headsets that retail for just under $300.
> Gaming: Users of Creators Update will be able to easily create and share live gaming streams and tournaments on Xbox Live. And those with Win10 gaming PCs will be able to play popular games including "Forza Horizon 3" in 4K high fidelity.
> Connecting and sharing: Creators Update users will be able to designate the people they most frequently share and collaborate with, then easily share content and messaging with them, regardless of the app. A new feature known as Shoulder Taps will let those same people send you messages on your desktop.
Surface Studio
Microsoft today expanded its Surface family with a new desktop system aimed at professional designers. Called the Surface Studio, it features a 28-inch ultraHD touch-screen mounted on two chrome arms, a 6th Gen Intel Core i5 or i7 processor, built-in mic and HD camera, and lots more.
One key feature of the Surface Studio is its "zero-gravity hinge," which lets the user move the 13-pound display as if it were nearly weightless, and into any angle.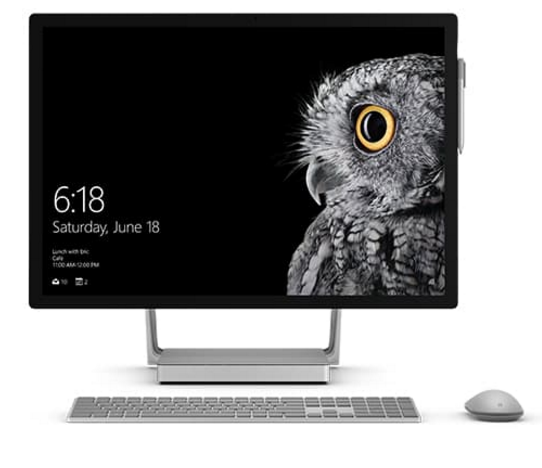 The display says June, but the new Microsoft Surface Studio is set to ship on Dec. 15.
Users of the Surface Studio will be able to use the Microsoft Pen and a new device, the Surface Dial. The latter will let users interact with the system using both hands, not just one for the mouse. By turning the Dial, you can scroll, zoom and navigate.
The Surface Studio is available now for pre-order on Microsoft Store, with shipments are set to begin on Dec. 15. Retail prices range from approximately $3,000 to $4,200, depending on processor, memory and graphics-processor options.
Surface Book i7
Last year Microsoft got a lot of attention with its first notebook, the Surface Book. Today it announced a new model, the Surface Book i7, which, as the name suggests, is powered by a 6th Gen Intel Core i7 processor. Its other big feature: up to 16 hours of battery life.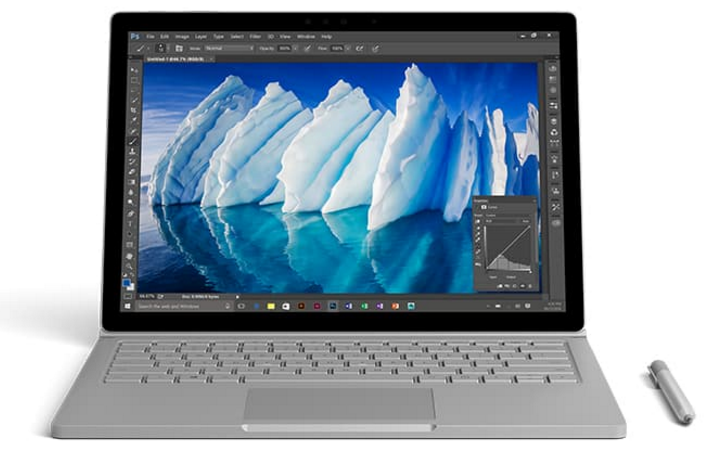 The new Microsoft Surface Book i7 is set to ship in early November.
Other key features include a detachable 13.5-inch high-res PixelSense display capable of 6 megapixels and able to interact with Microsoft's Surface Pen. Those who liked the original Surface Book will be happy to hear the new i7 model keeps its cool Dynamic Fulcrum Hinge, as well as the light magnesium chassis.
The Surface Book i7 is available now for pre-order on Microsoft Store, with shipments are set to start on Nov. 10. Retail prices range from approximately $2,400 to $3,300, depending on memory, storage and other options.
If you're looking for that extra something special to move clients to Windows 10, these new announcements could be just what you need.
Related content:
Windows 10 is dead, long live Windows 10
PC market: a glass half empty — or half full?
Microsoft takes on computing both big and small
Back to top