Do you have clients using tablets? The tablet market is going through some big changes, including:
> New low-price tablets retailing for under $200
> Tablets sold as part of a larger platform strategy (a la Amazon)
> The fast and surprising growth of tablets with detachable keyboards
Overall, tablet sales are mixed. On the one hand, tablet sales in this year's third quarter dropped by nearly 15 percent from the year-earlier period, for a worldwide total of 43 million units, according to a new report from market-watcher IDC. On the other hand, those shipments represented a nearly 10 percent increase from this year's second quarter.
"We're witnessing real tectonic movements in the market," said IDC's research director for tablets, Jean Philippe Bouchard.
Cheap & Strategic
Part of that movement involves a new breed of very low-cost tablets. For example, Walmart sells the RCA Viking Pro, an Android 2-in-1 tablet complete with a 10.1-inch display, 1 GB of memory, 23GB of storage, and built-in mic for less than $100. That's cheap.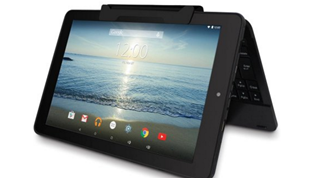 The RCA Viking Pro: a detachable tablet for just $97.
Another development involves tablets sold as part of a broader platform strategy. As IDC points out, that's what Amazon is up to. The online retailer recently added the Alexa cloud-based voice service to its Fire tablets, which retail for as little as $50. Similarly, Barnes & Noble sells a Samsung Galaxy Tab A Nook e-reader for about $140. The retailer hopes buyers of that device will then buy eBooks, and to entice them, it currently offers more than a million titles retailing for no more than $5 each.
Top 5 Tablet Suppliers
Among the top tablet brands, who's leading? According to IDC, it's Apple, followed in order of unit shipments by Samsung, Amazon, Lenovo and Huawei.
Apple shipped 9.3 million tablets in Q3, IDC says, giving it a global market share of 21.5 percent. But, as IDC points out, the picture is mixed. On the one hand, the iPad Pro did not perform all that well, as more than two-thirds of the tablets Apple shipped in Q3 were instead iPad Air and iPad Mini devices. However, those iPad Pros that did sell, helped Apple due to their high price. These devices retail for $600 to $1,130. So even though Apple's tablet unit shipments fell by more than 6 percent year-over-year, revenue for the sector was unchanged.
Only Samsung came close, shipping 6.5 million tablets in Q3 for a market share of just over 15 percent, IDC says. Did all the negative publicity about Samsung's exploding and burning phones hurt? IDC says no. Then again, those 6.5 million units were nearly 20 percent fewer than Samsung shipped in Q3:15.
Amazon was number three with a bullet. It and Huawei were the only suppliers among the top five to increase Q3 shipments over the year-earlier period, according to IDC. And in Amazon's case, that growth rate was a stunning 320 percent, as the supplier shipped 3.1 million tablets in this year's third quarter.
Microsoft did not make the Top 5 list because IDC considers high-end 2-in-1s like the Surface devices to be PCs, not tablets. But it's worth noting that Microsoft has turned the Surface devices into a big business, bringing in a reported $4.4 billion in revenue in the last year.
Also see these recent blog posts:
7th gen Intel Core processors: your new push for PC refresh
Why tomorrow's compute devices could be controlled by speech
Intel NUC, Compute Stick offer true desktop replacements
Back to top