With the U.S. presidential elections tomorrow, now's a good time to review the IT employment picture. And overall, the picture is pretty good.
Employment in the U.S. IT sector increased in October for the fourth month in a row, adding 4,200 jobs, according to nonprofit association CompTIA, which on Friday released its analysis of the latest figures from the U.S. Bureau of Labor Statistics. For the year to date, CompTIA adds, the U.S. IT sector has added a net 56,800 jobs.
"The reasonably solid jobs report is an indication that IT sector and IT occupation employment remain on track with year-end growth targets," said Tim Herbert, CompTIA's senior VP of research and market intelligence.
"Despite angst over the election," Herbert adds, "employers added tech jobs, a reflection of continuing demand for digital business technologies, managed IT services, cybersecurity expertise and related skills."
To be sure, some IT sectors did much better than others. That figure of 4,200 new jobs is the net, factoring in two categories that suffered hefty job losses. For example, while services and design added 8,300 jobs, telecom lost 4,500. Here's the breakdown, courtesy of CompTIA: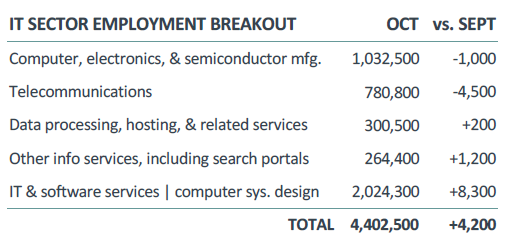 Job postings were less encouraging, however. By job title, CompTIA found, the top 5 postings in October were for software developers, systems engineers/architects, systems analysts, user-support specialists and project managers. But it also found there were about 21,000 fewer job listings for these five positions in October than in September.

Clinton v. Trump re jobs
So with election day tomorrow, how do the two main presidential candidates compare on policies intended to help create and protect IT jobs?
Hillary Clinton's official website says the Democratic Party's candidate would "build the tech economy on Main Street." How? By, among other things, investing in science and STEM education, creating a lifelong learning system tailored to 21st century jobs, increasing access of capital to small businesses, attracting/retaining top talent worldwide, investing in tech R&D, and investing in a world-class digital infrastructure.
Donald Trump's official website does not specifically address IT jobs, but does say the Republican Party's candidate would create a "dynamic booming economy" that includes 25 million new jobs over the next decade. Trump would also develop new cybersecurity capabilities — needed, his site says, to deter attacks from both state and nonstate actors.
You may also enjoy:
Who'd be the better U.S. president for solution providers?
Cloud users 'rebalancing,' finds CompTIA survey
Back to top