Are you ready to offer cloud-based disaster recovery (DR)? Better be, because your clients are definitely ready for it.
In a recently released survey, half of IT professionals whose organizations have a DR solution are leveraging the cloud. And of those, 90 percent feel confident that their DR strategy is correct.
The survey was conducted by Zetta Inc., a provider of cloud-based DR. Zetta conducted the survey online in October, reaching about 400 IT professionals at small, medium and large organizations in more than 20 industries.
Sure, about half (46%) of the IT pros surveyed have no cloud-based DR at all, and only about 1 in 10 (9%) have put all their DR eggs in the cloud basket. But a large group (41%) uses some combination of cloud plus on-premises DR, as this chart (courtesy of Zetta) illustrates: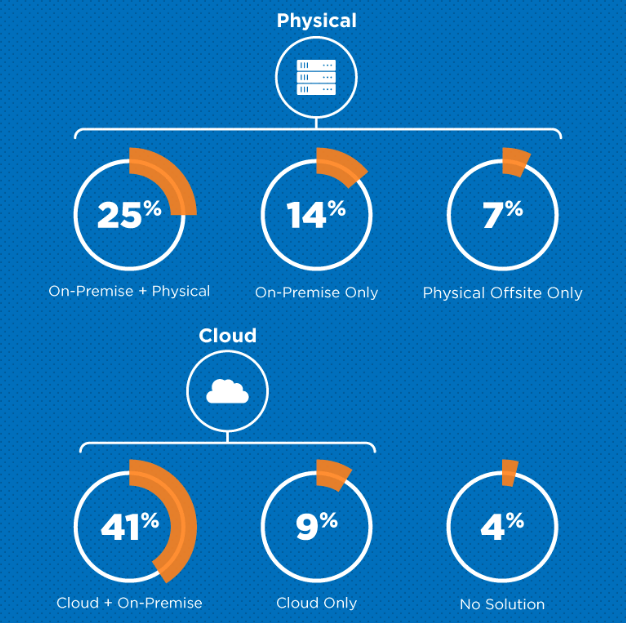 The need for effective DR is clear. More than half (54%) of those surveyed said their organization had experienced a downtime event lasting more than 8 hours over the past 5 years. The most common causes were power outages (cited by 75%), hardware errors (52%) and human error (35%). The average cost of a downtime event, respondents estimate, was $20,000 a day.
Future Opportunity
Looking ahead, there's plenty of opportunity. One in 3 survey respondents said they're looking to update their DR solution over the next 12 months. The top attribute of a successful system, they say, is reliability. It's followed in descending importance by speed of recovery, cost, usability and simplicity.
Here's another opportunity: Many IT pros are dissatisfied with their current DR solutions. More than half (54%) of survey respondents believe their DR solutions are too costly. And more than a third (37%) said they're too difficult to use. Fortunately, a third (34%) of those who have cloud as part of their DR setup say it was simple to deploy.
Your solution provider takeaway? If you're offering DR solutions to clients, be sure to include the cloud.
Back to top