You may need to pay your employees more this year. So may your clients.
That's according to a new survey from career-coaching company Paysa. It examined the resumes of some 5 million technology professionals, then concluded that more than one-third (36%) of them were underpaid by at least 10 percent.
As Paysa points out, that 10 percent adds up. The average annual salary for a software engineer is $112,000, it says. So if that's one of your employees, and you wanted to give them that extra 10 percent, you'd have to pony up another $11,200 a year.
Sure, you could just say and do nothing. But Paysa says that could be a mistake — and a costly one. It believes nearly 80 percent of technology and engineering workers have a compelling reason to quit their current jobs and move on to another within the next 6 months. The top reason? The workers are underpaid and can get more money elsewhere.
Another reason for job-leaping, Paysa says: overdue job promotions. No one likes feeling passed over. Yet another: working at a company in serious decline.
Your 2-year action plan
The solution? Paysa recommends conducting a quick survey of your employees. If anyone has gone 2 years without a pay raise or promotion, it's time to take action. Give them a raise or promotion, expand their responsibilities, offer them some training, or at least give them some special recognition. Do something.
Fail to take action, and you could lose them to another organization that's willing to pay more. It's that big a deal.
"The shift in power from the employer to the employee will accelerate, tipping the scale in favor of the employee, at least in the technology sector," said Paysa CEO Chris Bolte.
To be sure, Paysa has some skin in the game. It offers AI-driven career coaching to help individuals get paid more. The company uses AI techniques that include machine learning, multivariate statistics and natural language processing to analyze literally millions of job postings and resumes. It then tells clients whether they're getting paid at market rate. For example, here's Paysa's average pay card for a Java developer. It shows that a Java developer getting less than $79,000 in base salary is probably underpaid: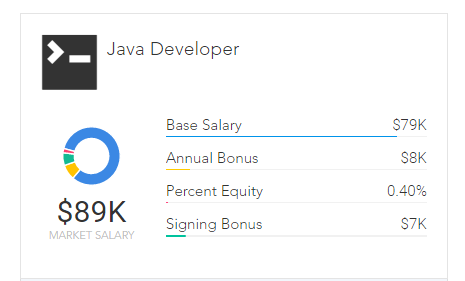 Pay more to retain more?
The big takeaway: Retaining your best employees — and helping your clients do the same — should be a high priority this year.
There's more to it. Across the economy, wage growth has been sluggish. Last year, the average hourly pay for all U.S. jobs rose by only 2.9 percent, according to the U.S. Labor Dept. And that was considered good — a 7-year high!
Also, the official U.S. unemployment rate is now 4.8 percent, the lowest it's been since 2009. Put that together with barely-rising pay, and you've got an environment where most workers have jobs, but haven't gotten much of a pay raise. In that situation, many workers will likely hunt for new jobs at organizations willing to pay them significantly more.
Unless their bosses are smart enough to follow Paysa's advice, that is.
You should also enjoy:
Cloud-based communications to grow this year: survey
Disaster-recovery in the cloud is real, finds survey
Cloud-adoption survey shows no signs of slowdown
Back to top