Earlier this month, Intel introduced an innovative and cool modular compute platform, the Intel Compute Card.
The Intel Compute Card is worth a look, especially since the first OEM solution based on the new device has been announced, too.
The Compute Card is only slightly longer than a credit card, measuring 55 x 95 mm (2.2 x 3.7 inches). Small as it is, the Compute Card contains all the elements of a full computer: system on a chip, memory, storage and wireless connectivity.
Processor options will include the latest 7th Gen Intel Core processors, and availability is set for the middle of this year, Intel says. Here's a look at the Intel Compute Card: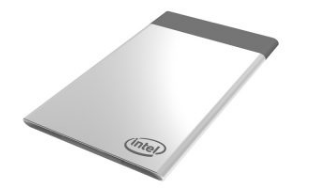 How about applications for the new compute platform? Intel points to digital signage and kiosks, all-in-one PCs, smart TVs, and even inventory-management systems.
Several hardware partners have already committed themselves to deliver system based on the Compute Card. They include Dell, HP, Lenovo and Sharp. Some regional partners have also signed on to develop connected devices based on the Intel Compute Card. These partners include Seneca Data, InFocus and TabletKiosk.
Introducing NexDock
One of the first, if not the first, regional partner to introduce a product incorporating the Intel Compute Card is Nex Computer. The company, based in Walnut Creek, Calif., was launched only last year after raising $360,000 in a crowdsourcing campaign. Since then it has shipped about 3,000 of its first product, the NexDock laptop, which gets its power from the user's smartphone, tablet or mini-PC, and retails for only about $120.
NexDock says its second NexDoc device will be a 2-in-1 that "harnesses" the Intel Compute Card. Not many details have been released, but it seems the device will have a slot into which the user will load an Intel Compute Card. Here's a rendering, courtesy of Nex Computer, showing how the device, about to be loaded with an Intel Compute Card, should look:

Nex says its device will be available mid-year. Prices haven't been announced yet. To learn more, you can sign up for the company's Notify Me mailing list.
Intel is also offering updates on availability, design guide releases and other announcements regarding its Compute Card. To get these Intel Compute Card updates, sign up here.
The Intel Compute Card is worth checking out. Just when we thought the computing platform couldn't get smaller, it has.
Also check out:
How Intel plans to be retail's newest game-changer
The new 7th Gen Intel Core processors: better Windows, security, multimedia
PC shipments fall for 5th consecutive year — what's next?
Back to top