The era of 5G mobile data is about to begin.
Some 50 billion Internet of Things (IoT) devices are estimated to be coming online over the next 5 to 10 years. To serve them, faster, more efficient communication will be needed, too.
Key to full-scale IoT are high speeds, low latency and full support for low-bitrate devices and sensors. 5G technology promises all that — and more.
Intel is doing its part. On Jan. 4 the company announced the world's first global 5G modem. No, the device is not yet available on the open market. But Intel is already supplying top-tier manufacturers with the hardware to test and develop new 5G devices. These include everything from connected appliances and wearables to autonomous vehicles.
Heavy Hitters
At the same time, OEMs are working hard to develop 5G cellular vehicle-to-everything (C-V2X) communications. These OEMs include members of the newly minted 5G Automotive Association (5GAA). It's a partnership among Audi, BMW, Daimler, Huawei, Intel, Nokia and Qualcomm.
These heavy hitters will surely be able to make significant advances in the burgeoning auto-tech market. Nokia, for example, recently completed the first 5G connection using the 5GTF interface, an industry "pre-standard" spec for 5G apps. And more will likely follow.
But 5G is not only about smart cars and coffee makers. Increased mobile bandwidth and fidelity should have far-reaching implications in many sectors. Mobile workers will bring increased facility to job sites. Healthcare practitioners will be empowered to reach beyond their hospital walls, delivering diagnosis and treatment to remote areas. Students will be able to leave the classroom and move through the world with full-featured augmented reality at their fingertips.
5G Revolution
The implications are huge. Venkata "Murthy" Renduchintala, Intel's president of client, IoT and systems architecture, recently commented in an editorial: "Not since the transition from analog to digital have we seen such a transformation of this scale."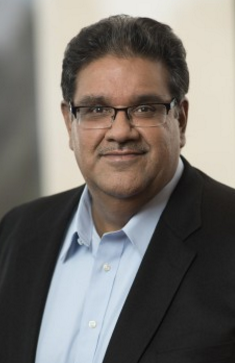 In fact, Renduchintala (pictured above) believes 5G technology will foment a true technological revolution. For example, he posits a mapping drone that pushes 20Gb of data to the cloud every minute. This, in turn, could enable streets full of autonomous vehicles that communicate with drivers and passengers, pedestrians, other cars, crosswalk and traffic signals, and the smart city all around.
It's a bold prediction — but one seems increasingly realistic as time and technology march forward.
Apps and other software solutions will evolve, too, as more bandwidth becomes available. That could lead to what Intel calls a "virtuous cycle of innovation." It's a path from technological advances like 5G to new analytic data from apps and devices, and back around again.
Fasten your seatbelt. 5G is going to be an exciting ride.
See related posts:
The future is all about data: Intel execs
Intel changing for a connected world. You?
Back to top