Sure, Lenovo is the top PC supplier by market share worldwide. But have you checked out Lenovo's activity in the data center lately?
Lenovo has big plans for both its data center group (DCG) and the channel. Sammy Kinlaw, channel chief for Lenovo North America, gave a presentation on this subject last week at the XChange Solution Provider 2017 conference held in National Harbor, Md.
As data increasingly moves to the cloud, he said, Lenovo intends to be there — meaning, the internet-connected data centers where the cloud lives. And because Lenovo considers itself to be a channel-first supplier, its data-center plans definitely include its partners.
The slide below, taken from Kinlaw's recent presentation, shows how Lenovo's DCG channel program features products for the cloud, software-defined storage, high-performance computing and more. Lenovo has created many of the products in partnership with companies that include SAP, VMware and Microsoft.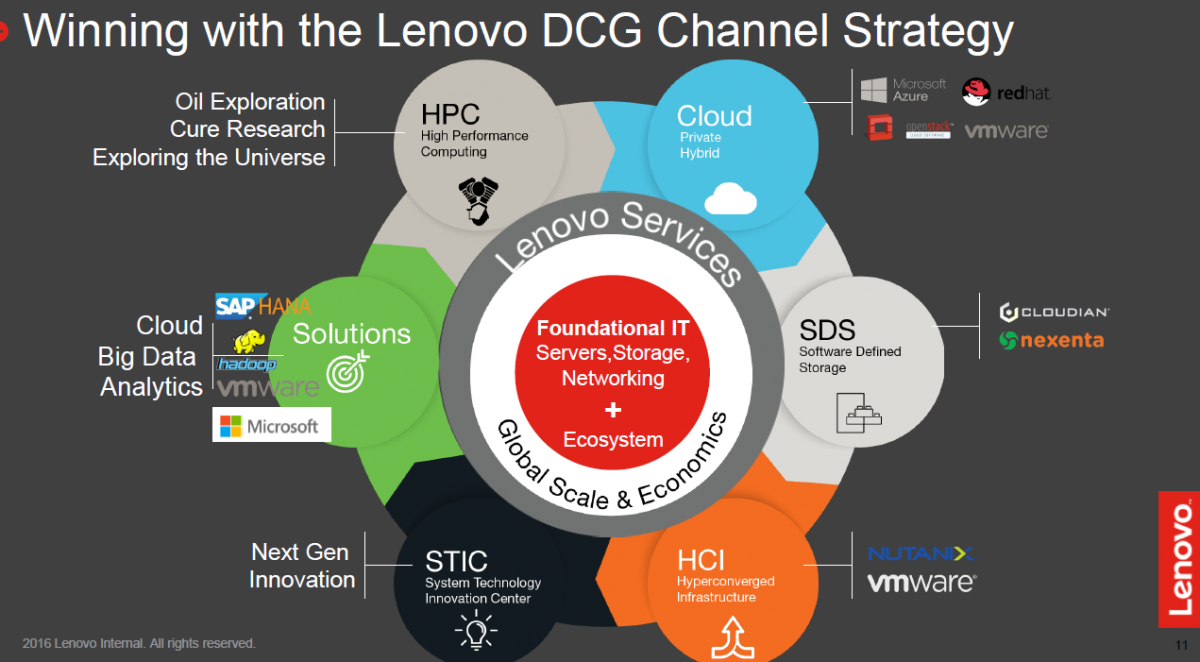 For the channel, Lenovo's data center team currently offers certifications and accreditations, and more are planned for the near future. Current certifications include data center sales professional and technical sales professional. Looking ahead, new certification exams for storage and server are planned for the second quarter of this year, Kinlaw said.
Also planned for next month is the launch of a North American tiered channel program for data center products. There will be 3 tiers (authorized, gold and premium) with different revenue and certification requirements for each.
Presumably, details of the new program will be presented at Lenovo's Accelerate 2017 channel partner forum, set for Orlando, Fla., on April 24-26. Kinlaw is scheduled to be among the general session speakers. So is Kirk Skaugen, executive VP and president of Lenovo DCG.
DX8200D storage appliance
Speaking of Lenovo data-center products, Lenovo earlier this week introduced a software-defined storage appliance, the DX8200D. And speaking of partnerships, the device essentially combines Lenovo's x3650 M5 server with SANsymphony storage-virtualization software from DataCore Software. Here's a look, courtesy of Lenovo:

Okay, it won't win any beauty contests. But Lenovo says the DX8200D can reduce a data center's storage costs by up to 75 percent, essentially eliminate all storage-related downtime, and decrease the time spent on storage management support tasks by up to 90 percent.
The DX8200D does all this by placing isolated SAN devices (even in different locations) under a single set of enterprisewide services. The appliance also centrally automates discovery, real-time monitoring, inventory tracking, fault detection, and alert-handling using Lenovo's XClarity software.
Measuring 17.5 inches across, the device packs two Intel Xeon E5-2620 v4 CPUs and up to 768 GB of memory. It runs on Windows Server 2012 R2 Standard. (For the full tech specs, check out this Lenovo DX8200D product guide.)
Shipments of the DX8200D are set to begin tomorrow, but so far Lenovo hasn't released pricing. A company spokesman tells us only that prices will vary. We'll update this if and when we hear more.
You may also enjoy:
Why Intel says the future is all about data
How the channel is changing: CompTIA report
Data Center and SSD learning center
Back to top