The company yesterday introduced what it's calling "the most responsive" data center solid state drive (SSD), the Intel Optane SSD DC P4800X series.
Intel promises the new drives can help remove data bottlenecks, improve CPU utilization and let users do more work with the same number of servers.
The new drives are based on a nonvolatile memory technology, introduced by Intel and partner Micron back in July 2015, known as 3D XPoint.  At the time, the two companies said their technology could deliver speeds 1,000 times faster than NAND, the most popular nonvolatile technology, widely used for fast storage. 3D XPoint doesn't use transistors, but instead uses electricity to make physical changes in a proprietary material.
The new Optane drives, Intel says, essentially combine the attributes of memory and storage. Intel calls it a storage solution that behaves like system memory. Why is this needed, anyway? Because, Intel answers, DRAM (widely used as working memory) is too expensive to scale, while NAND lacks the performance to function as memory.
Really Big Data
All that will become vital, Intel believes, as data volumes explode. At the time Intel introduced 3D XPoint, it also cited forecasts of worldwide data volumes growing 10-fold between 2013 and 2024, from 4.4 zettabytes (billions of terabytes) to 44 zettabytes. Current technologies, Intel believes, lack the capacity to turn all that data into actionable information.
Intel CEO Brian Krzanich put some additional meat on that bone last month while speaking at the company's annual investors meeting. He explained that Intel is widening its market to include not only PC and server CPUs, but also areas including data center and nonvolatile memory. That should help expand the company's total available market, Krzanich told investors, from $45 billion in 2016 to $220 billion in 2021.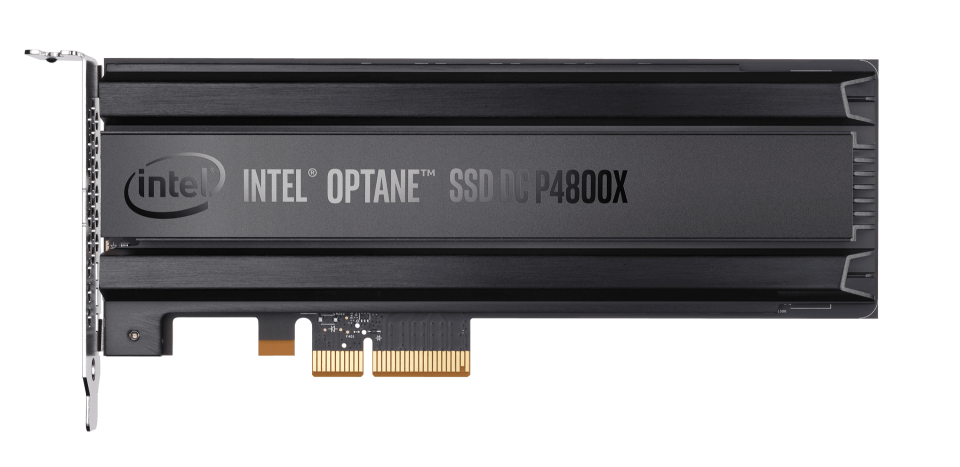 Above: Intel hopes this is the future memory device for your clients' data centers.
Tech Specs
The Intel Optane SSD DC P4800X series has a capacity of 375 GB, and it's currently available in an Add-In Card form factor designed for enterprise data centers. Intel says other capacities and form factors will ship in the second half of this year.
The current version retails for $1,520. As today's Wall Street Journal points out, that's about $4/GB, below the cost of DRAM, which typically costs $4.50 to $5 per GB. But it's also well above the cost of NAND, which typically runs just 20 to 25 cents per GB.
The new Intel technology is already being tested by Dell, Chinese search engine Alibaba and Harvard University, the WSJ adds.
Sound like something for your data-center clients? Then check out:
Intel product brief: Optane SSD DC P4800X Series
Intel product page: Optane SSD DC P4800X Series
IT Peer Network: Applying Intel Optane SSDs to MySQL, Part 1: Fast Storage
Back to top