Here's why: More than 15 percent of small and medium businesses (SMBs) have been the victims of cyber attacks. And a whopping 60 percent had to close their doors within 6 months of a data breach.
Yet when asked which issues they're most concerned about, fewer than a third (28%) of SMB executives mentioned the safety and security of their technology, email and documents.
So here's a threat that could close their business. Yet only about 3 in 10 think it's even an issue.
All that's according to a survey recently conducted by The Business Journals, reaching some 1,300 SMB owners, executives and key decision-makers. All survey respondents worked at U.S. companies with anywhere from 5 to 499 employees. The results of the survey were published earlier this week in a Business Journals report entitled SMB Insights 2017: Full Steam Ahead.
Cloud, Mobility on SMB Radar
Other key technology findings of the survey:
> There's good news. Many SMB executives are aware of key IT innovations including the cloud, 3-D printing and virtual reality. The following chart, courtesy of The Business Journals, shows their response to the question, "Which of the following emerging technologies are you aware of?" The figures indicate the percentage who said they're aware of each technology, and multiple responses were permitted.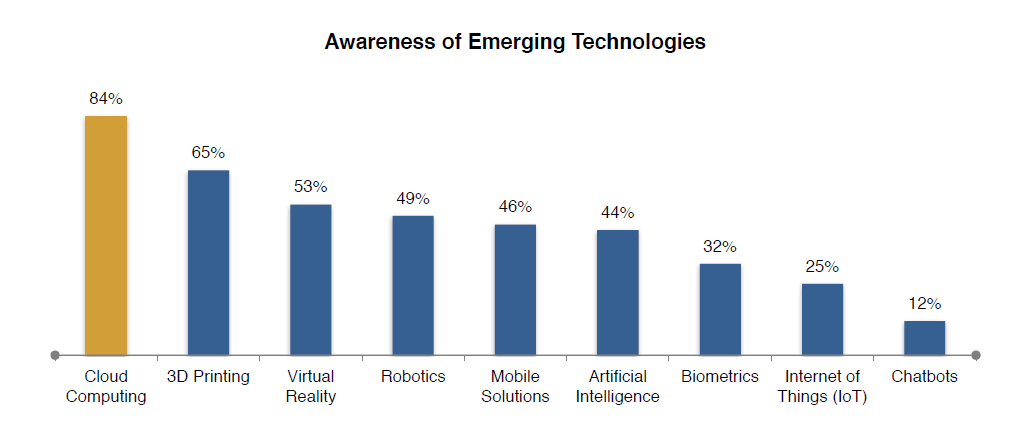 > 65 percent of respondents said they have a company website, and 55 percent said their company website has been designed for mobile access.
> Just over a third (34%) of respondents agree either somewhat or completely that their company is transforming the customer experience with mobile technology.
Non-Tech, Too
How about general business trends? Here are some selected findings from the SMB survey:
> Seven out of 10 respondents said their company enjoyed sales growth last year. For about half that group, sales growth was in the range of 1 to 10 percent. For the other half, sales growth was in the range of 11 percent or greater.
> SMB executives are optimistic about the future. Fully 80 percent of respondents said they have a positive outlook about future business prospects.
> The cost of health insurance and related benefits is a growing concern. Nearly two-thirds (63%) of respondents cited it as a top concern, up from 59 percent a year ago. Every other top concern was cited by a smaller number of respondents this year than last; these concerns included the economy, the cost of doing business, and the ability to attract new employees.
> 8 out of 10 SMB executives plans to hire more full-time employees in the next 12 months. The average number of employees expected to be hired is 5.
The takeaway for solution providers? Tell your clients they're probably not worrying enough about cyber security. But also breathe a sigh of relief: At least your SMB clients know what the cloud is!
See related content:
Hybrid IT is the new normal, finds survey
Non-malware attacks: bigger threat than you might think
Why ignoring LoB managers could be a costly mistake
Back to top