Still looking to give customers good incentives to refresh their PC hardware?
HP and Microsoft are offering a new helping hand. Both suppliers just introduced several mobile compute systems your customers should find very attractive indeed. These are all Windows 10 systems powered by the latest 7th Gen Intel Core "Kaby Lake" processors.
Here's your solution provider's update:
Microsoft: new Surface Pro
Today, in Shanghai, China, Microsoft introduced a new Surface Pro the company says has been completely redesigned with more than 800 new parts.
Features of this Win10-based 2-in-1 include a 12.3-inch PixelSense touch screen with a 165-degree hinge; 7th Gen Intel Core processor (choice of m3, i5 or i7); up to 16GB of RAM and 1TB of storage; and a fanless design for the i5 version. Conspicuously missing: a USB Type-C port (though Microsoft says an adapter is coming soon). The device weighs just 1.7 lb. and measures a thin 8.5 mm.
Microsoft says the new Surface Pro offers 2.5 times more computing performance than the older Surface Pro 3, and 1.7 times the performance of Apple's iPad Pro. Battery life is promised at up to 13.5 hours, which Microsoft says represents 50 percent more battery life than its Surface Pro 4 and 35 percent more than Apple's iPad Pro.
When it comes to accessories, the new Surface Pro works with Microsoft's Surface Dial and Surface Pen. Speaking of which, Microsoft also announced new versions of the Surface Pen; features include customizable pen tips and support for tilt and shading in Office 365 applications.
Microsoft also announced a new application, Whiteboard on Surface, that enables collaboration and multi-device linking.
There's also new Signature covers for the Surface Pro, said to resist spills. They're available in 3 colors: platinum, burgundy and cobalt blue.
Retail prices for the new Surface Pro start at $800. Shipments are set to begin on June 15 in 25 countries including the U.S., Canada, U.K. and China. Here's a look at the new Microsoft Surface Pro: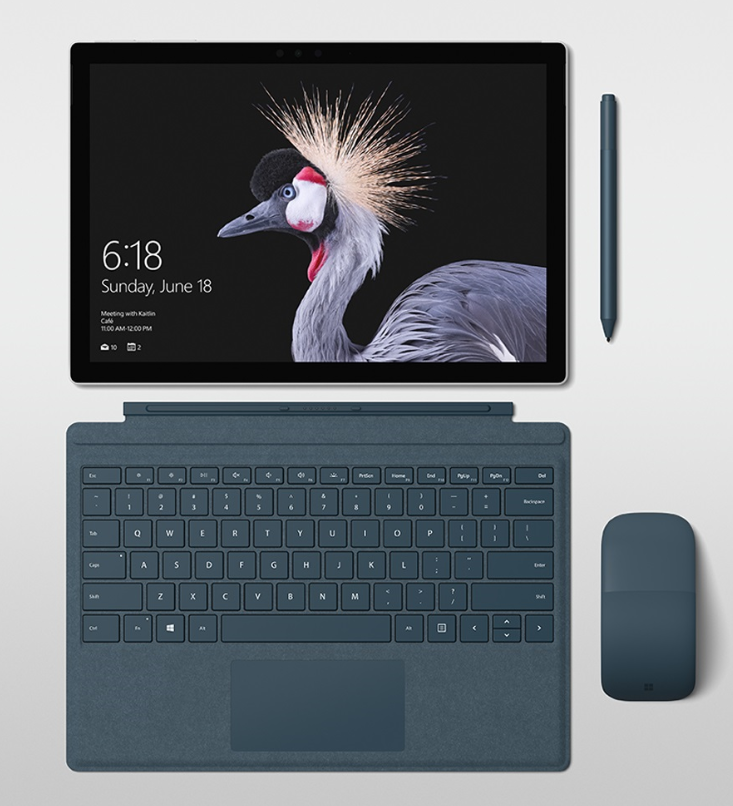 HP: new Spectre X2, Envy
Yesterday, at the glamorous Cannes Film Festival in France, HP introduced 4 systems:
> Spectre X2: This is a 2-in-1 featuring a 12.3-inch HD display, detachable keyboard (held with magnets), 13-megapixel camera, and up to 8 hours of battery life. There's also a stainless steel kickstand and an aluminum case that comes in two custom colors: ash silver and copper. Under the hood, a choice of a 7th Gen Intel Core i5 or Core i7 CPU; Iris Plus Graphics; up to 16GB of RAM; and up to 1TB of SSD PCIe storage. Total weight including the keyboard is just 2.5 lb. Shipments are set to begin next month, with retail prices starting at just under $1,000. Here's a look at the HP Spectre X2 with its keyboard removed:

> Envy 360: This 2-in-1 offers a larger 15.6-inch display, unibody aluminum chassis, separate stylus for use with Windows Ink, and a choice of Intel Core i5 or i7 processors. It weighs 4.55 lb, and battery life is promised at up to 10 hours. The HP Envy 360 is set to ship next month with retail prices starting at about $900.
> Envy 13 & 17 Laptops: These are thin, sleek laptops. As you'd expect, the Envy 13 features a 13.3-inch display, while the Envy 17 features a display of 17.3 inches. Otherwise, they both offer similar choice of Intel Core i3, i5 or i7 processor; quad speakers; and either a silver or gold metal chassis. The weight and thickness difference is substantial: The Envy 13 measures 13.9 mm and weighs 2.7 lb., while the larger Envy 17 measures 23.3 mm weighs 6.73 lb.  The Envy 17 is available now, with retail prices starting at $1,000. The Envy 17 will ship in June, with retail prices starting at $1,050.
Looking for PC refresh incentives? Look to these new HP and Microsoft systems.
Also, don't miss:
Optane memory for PCs now shipping
Why low-cost tablets are failing to lift the market
Microsoft counters Chromebooks with new Win10 version, laptop PC
Back to top