Cyberattacks are scary. Hackers have gotten more sophisticated, and the damage they wreak is getting massive.
To help, Microsoft today announced plans that should make you and your customers feel a little less scared.
The company said today that its Windows 10 Fall Creators Update, expected to roll out in September, will include new end-to-end security features.
"Our customers tell us they want an integrated, single pane of glass security solution to consume, manage and integrate security for their fleet of devices," writes Rob Lefferts, partner director of Microsoft's Windows & devices group.
To that end, the new version of Win10 Creators Update will include what Microsoft describes as a built-in suite of security tools under the banner Windows Defender Advanced Threat Protection. (Somewhat confusingly, Microsoft introduced an earlier version of ATP back in March; it's available now for Win10 Enterprise only.)
To provide that single pane of glass view, Microsoft will deliver a new dashboard view in Windows Defender ATP. Here's a look, courtesy of Microsoft: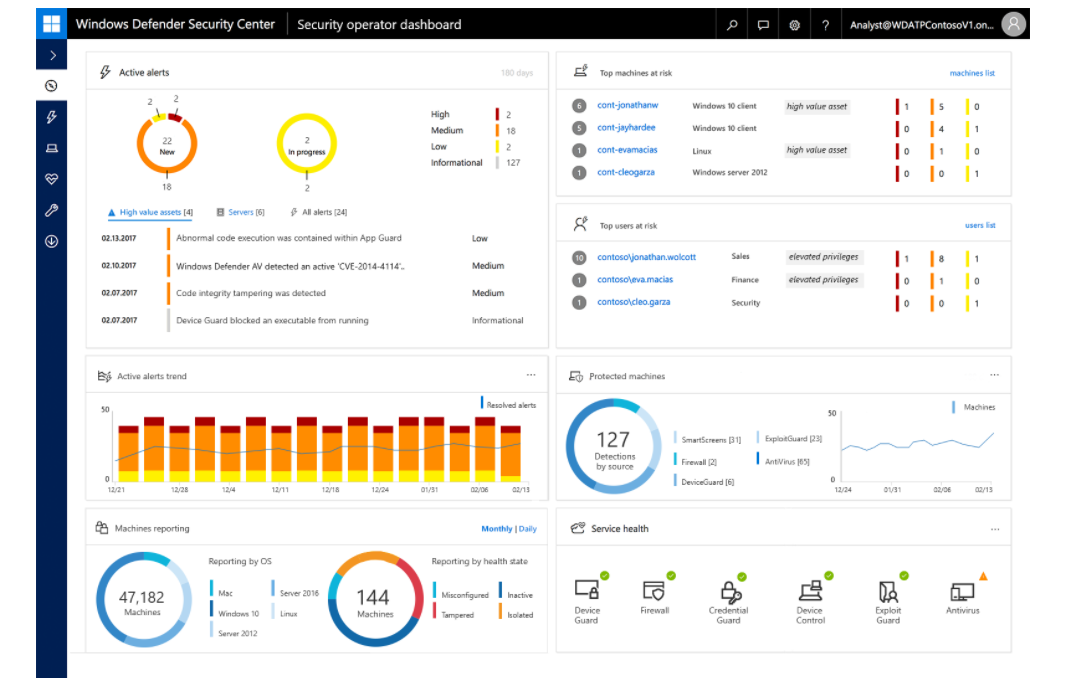 Key components
With Win10 Creators Update, Microsoft says, ATP will include 3 important and new components that not only detect and respond to threats, but also protect against them:
> Windows Defender Exploit Guard: A new feature in the Enhanced Migration Experience Toolkit (EMET), it will make EMET native to Win10. Also, according to Microsoft's malware protection blog, Exploit Guard will give companies more control on restricting how code runs on their machines and provide tools to mitigate exploits at runtime.
> Windows Defender Application Guard: Microsoft says this will protect against attacks coming in via a user's browser. For example, if a user accidentally downloads malicious code, Application Guard will isolate and contain the threat. That will also prevent the malware from spreading. That's important, because an estimated 90 percent of attacks use a hyperlink to steal credentials, install malware, or exploit vulnerabilities.
> Windows Defender Device Guard: This feature, Microsoft says, will offer application control via management of "safe application" lists and prevent any untrusted code from running.
Cloud, too
Microsoft's Intelligent Security Graph (ISG) and machine learning will play a part of the Win10 Fall Creators Update security enhancements, too. ISG is a cloud-based repository of all signals and telemetry from the company's more than 200 services it offers worldwide.
As part of Win10 Fall Creators Update, ISG and machine learning will be brought in to identify evolving threats and block the latest malware. Microsoft says it will also use the cloud to enhance Win Defender Antivirus so it can render verdicts on malware in seconds.
Cyberattacks are still scary. But with these and other new security features from Microsoft, they could be easier for you and your customers to detect and block.
And don't miss:
Cloud-based security services: are you ready?
Ransomware attacks increased 50%: report
What's new in Windows 10 Creators Update
Users careless with personal data, finds Dell survey
Back to top