If you're a Microsoft channel partner, or would like to be, the company has a bunch of new offers for you.
This week Microsoft is holding its annual worldwide partner conference, now rebranded Microsoft Inspire, in Washington, D.C. More than 17,000 partners from around the world are expected to attend.
Scheduled speaker at Inspire include Microsoft CEO Satya Nadella; Gavriella Schuster, corporate VP of worldwide channel and programs; Alvaro Celis, VP of worldwide OEM field sales; and Alyssa Fitzpatrick, GM of worldwide channel sales. Big guns!
4 new focus areas
CEO Nadella delivered the opening keynote this morning. During his presentation, he revealed that Microsoft is now focusing on 4 new areas: modern workplace, business applications, applications and infrastructure, and data and AI.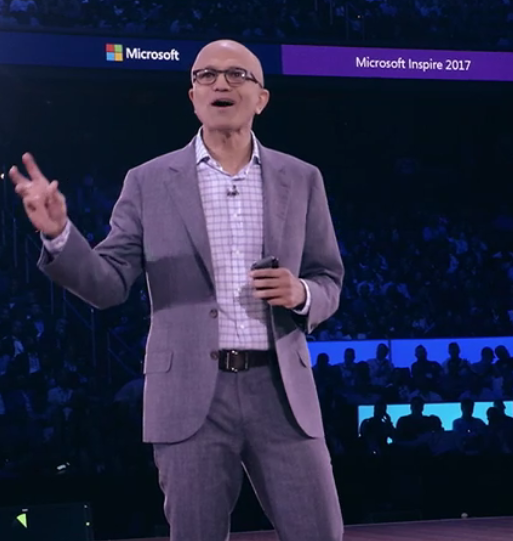 "Think about the impact we can have as a community, an ecosystem. - Satya Nadella
Accordingly, each of the many announcements Microsoft made today is being organized into 1 of these 4 focus areas.
> Modern workplace: The big news here is the announcement of Microsoft 365, which the company describes as a suite bringing together Office 365, Windows 10 and Enteprise Mobility + Security. There are two subsets, Microsoft 365 Enterprise for big companies and Microsoft 365 Business for SMBs with 300 or fewer employees.
> Business applications: Microsoft here is promising to connect businesses end-to-end, offering users modular functionality and the ability to break free of data silos.
New products in this category include Microsoft Relationship Sales, which combines Microsoft 365, LinkedIn and Dynamics 365. Another new package is Dynamics 365 for Talent, an HR package for recruiting, hiring and onboarding staff.
> Applications and infrastructure: Microsoft today announced that through partnerships with Dell, HPE and Lenovo, its Azure Stack is now available for order. Azure Stack is basically a hybrid cloud solution for on-premises setups
> Data and AI: So far, at least, there are no new products in this category. But Microsoft is integrating machine learning and analytics in many of its other products.
For example, in a presentation this morning, Julia White, corporate VP for Microsoft Azure, gave a demo of a chatbot program that not only uses facial-recognition for security, but also determines the person's mood from their photo and then responds accordingly. During her demo, after White frowned for her security selfie, the chatbot replied, "Don't worry."
New partner programs, too
Microsoft is unveiling several new partner programs this week. Here's some of what popped today:
> Azure: Microsoft says it is investing some $250 million to help channel partners co-sell Azure. This effort includes creating a new Channel Manager role, to be totally focused on supporting go-to-market efforts, reaching new customers and integrating sales programs.
> Mixed Reality: Microsoft has a new program called Mixed Reality Partner Program. Eligible partners will engage in a multiweek readiness program consisting of in-depth technical training, and sales and marketing readiness. Members of the company's older HoloLens Agency Readiness Project members will be grandfathered in.
> Surface hardware: 2 new programs are being offered to channel hardware partners. The Service and Support Partner Program is being expanded beyond its initial 10 countries (including the U.S.) to Japan and other countries. And the Surface Reseller Alliance is being launched with partner IBM Technology Support Services to strengthen warranty offerings, technology services and support for Surface devices.
> CSPs: Starting Sept. 6, cloud service providers will be able to opt for any of 5 subscription programs for Windows 10 virtualization rights. Also coming is a new certification program for third-party partners who wish to host virtual machines licensed via CSP subscriptions.
And that's just Day 1!
And also see:
Windows 10 Creators Update: new security features coming
Why you need 2-in-1s in your hardware-product mix
How are PC sales? Better, say IDC, HP, Lenovo
Back to top