Top-tier PC manufacturer Lenovo is pushing into the world of virtual reality with a spate of VR-ready desktops certified by Oculus Rift. Lenovo says its latest entry, the sub-$2,000 ThinkCentre 910t introduced in late June, is the world's first Oculus-certified commercial desktop.
Will this be a new era for high-performance desktop PCs? The demand could be there. M&A consulting firm Digi-Capital predicts the virtual reality and augmented reality (VR/AR) market will grow from about $3.9 billion last year to $108 billion in 2021.
Assuming that's right, now may be the perfect time to help your customers gain traction in VR. It's a market with high margins and room to grow.
Certified VR-Ready
Oculus Rift, the VR headset designer now owned by Facebook, got a head start in the marketplace. As a result, their name carries a lot of weight when discussing VR tech. Maybe that's why more PC manufacturers are now seeking official Oculus Rift certification for their VR-ready desktops.
So far, most of the names on the Oculus-ready list are gaming platforms, such as Alienware, Falcon Northwest and Cyberpower. But hardcore Deus Ex machines are not the only game in town.
Now Lenovo seems intent on garnering some VR street-cred, too. That could put the supplier ahead of its usual competitors, including Dell and HP, as VR takes hold in the minds of the masses.
Lenovo's new ThinkCentre 910t joins 3 other of the company's models on the Oculus list. They are the Y700, Y900 and the futuristic-looking IdeaCentre Y720-Cube.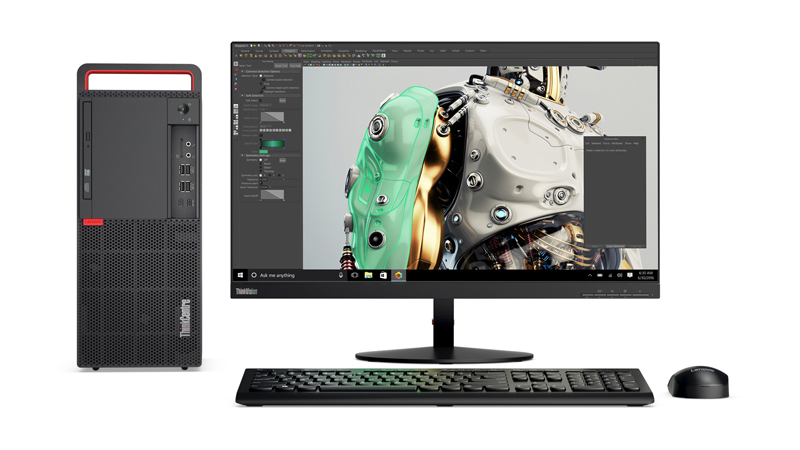 Lenovo says its ThinkCentre 910t is the first Oculus-certified commercial desktop
Lenovo knows that VR is no longer just for gaming. As the technology gets more advanced, elements of both VR and AR will find their way into such standard business-computing tasks as multimedia presentations, product development, training and customer support.
Real price of going virtual
All that said, VR-ready PCs are still expensive, and the reason why is simple: To guarantee a good VR experience, you have to buy your way into superior performance.
There is simply no way around the fact that you must achieve a rate of more than 60 frames per second (FPS). Without it, the user will end up with choppy visuals sputtering less than an inch from his or her eyes. The inevitable result will be headaches and nausea.
To achieve the desired result, a VR-ready PC should include a high-end GPU like the Nvidia GeForce GTX 980 or AMD Radeon RX 480 (a dual-GPU system is preferred). And to avoid bottlenecks, you'll need to support that GPU array with a powerful processor and fast RAM.
A solid VR rig requires fast storage, too. A modern SSD with plenty of space is the best way to go. What all that adds up to a desktop box starting around the $2,000 mark and going up — way up! — from there.
It's telling that the Lenovo ThinkCentre M910t is actually available online for $835. But Lenovo's press release puts the price at $1,829. That's based on the specs it needed to pass Oculus' 368 hours of testing.
This is an important lesson. Don't let your VR customers buy into an under-equipped PC. Professional-strength VR carries a professional-strength price tag. If a price sounds too good to be true, it usually is.
And don't miss:
How's the PC business? Getting better, say IDC, HP, Lenovo
Tablets: Even low-cost devices can't lift this market
Mixed reality at the big Computex show in Taiwan
Back to top