In what Intel calls its biggest data-center launch this decade, the company earlier this week introduced the Xeon processor Scalable family. Intel says these are its highest-performance, most secure and versatile processors for the data center.
The new processors are aimed at both enterprise data centers and service providers, whether that's of cloud, network or any other service. In fact, Intel estimates that about half the new processors will be bought by cloud service providers, or CSPs. Either way, the big benefits are major gains in performance, security and scalability.
More specifically, Intel says a typical data center that uses the new Xeon Scalable processors can enjoy a 1.65x gain in performance; 2x gain in data protection; and 4.2x gain in VM throughput, thereby reducing total cost of ownership, or TCO, by 65%. All those gains are compared with the previous Xeon generation.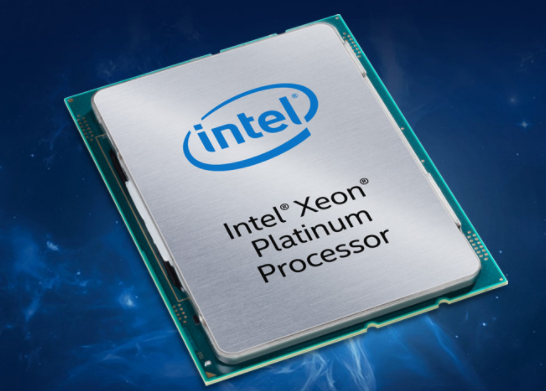 New CPU branding
From a branding perspective, the older E5 and E7 levels are now replaced by the new Xeon Scalable processors' 4 levels:
> Bronze: The entry level with 2 physical sockets and up to 4 cores per CPU.
> Silver: The midrange, it adds selected features, including more cores, turbo and hyperthreading.
> Gold: Also a midrange, but with 4-socket support, up to 22 cores per CPU, and up to 3 UPI (socket-to-socket) links.
> Platinum: The high-performance end, supporting up to 8 sockets and as many as 28 cores per CPU.
Model numbers are changing, too, for the first time in years. The Bronze, Silver, Gold and Platinum layers will be known, respectively, as the 3100, 4100, 6100 and 8100 series. The "1" in each number is the version number, and it replaces the V.x designation on the E5 and E7; so the next generation will be designated the 3200, 4200, 6200 and 8200 series.
Integrated features
Intel says the new Xeon Scalable processors were completely re-architected and designed from the ground up for today's wide range of workloads, including AI and analytics, emerging 5G networks and hybrid cloud setups.
One key aspect of that rethinking is the processor's micro-architecture. Intel has replaced its older Ring architecture with a new Mesh architecture that creates a more direct data path between the cores and memory, PCIe and other components.
Several integrated features are new to the Intel Xeon Scalable processor family, too. These include:
> Quick Assist Technology: An integrated hardware accelerator that can speed functions including bulk cryptography, public key encryption and compression.
> AVX-512: accelerates performance for compute-intensive workloads, including some security encryption algorithms. The result: more work per cycle, and minimized latency and overhead.
> VMD: Short for Volume Management Device, it's a new technology designed to improve management of PCIe/NVMe on solid state drives (SSDs).
Already in the field
While the processors have just been publicly introduced, Intel launched an early-shipment program about a year ago for select customers.
This means approximately 500,000 new Xeon Scalable processors have already been purchased by more than 30 user organizations and service providers. These buyers include AT&T, Google, Thomson Reuters and Montefiore Health System.
Some of the early testers have reported striking results. During the product announcement, Bart Sano, VP of platforms at Google, said his company has seen a 40 percent performance improvement over the previous platforms. And John Donovan, chief strategy officer at AT&T, said his company's performance gain was around 30 percent, resulting in a TCO reduction of 25 percent.
Intel partners have been working with the new Xeon Scalable processors, too. The result: more than 58 new performance world records from partners including Ericsson, Huawei, IBM, SAP and Tencent. Intel says more than 480 systems using the new processors are now being planned by its partners.
Learn more:
Visit the Intel Xeon Scalable Processors portal
Read the Intel Xeon Scalable Processors fact sheet (PDF)
View the Intel Xeon Scalable Processors product overview (PDF)
Back to top