Virtual reality is the next big thing. Sure, you've been hearing that for years, even decades. But this time around, it just might be true.
For example, a new report from Bloomberg states that VR is the fastest-growing skill for online freelancers. It also says billings on VR projects in this year's second quarter grew more than 30-fold from the year-earlier period.
Also this week, HP introduced a wearable VR-ready PC called the Z VR Backpack. This system joins other VR-ready PCs from other major suppliers. As we reported last month, Lenovo recently introduced the first Oculus-certified commercial desktop, the ThinkCentre 910t.
VR tech is advancing enough to find its way into standard business-computing tasks, such as multimedia, training and customer support. That's led M&A consulting firm Digi-Capital to predict the VR/AR market will rocket from $3.9 billion last year to $108 billion in 2021 — that's just 4 years away.
HP's VR backpack
As for the HP Z VR Backpack, it's a wearable PC weighing 10.25 pounds. Your customers can also convert the system to a desktop configuration using its docking station.
The new HP system runs on Windows 10 Pro, and it's powered by a 7th Gen Intel Core i7 processor. Graphics get a boost from an Nvidia Quadro P5200 GPU with 16 GB of memory.
Re headsets, HP says the user can choose any preferred device. But there is a custom integration feature with the HTC Vive Business Edition headset, which is sold separately.
But wait: What's a PC doing on a backpack? HP suggests the new device could be used for architecture, product design, first-responder training, automotive showrooms and entertainment. Here's a look: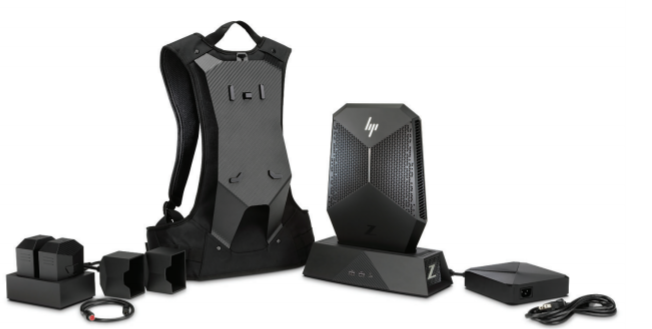 The HP Z VR Backpack is scheduled to ship in September and retail for $3,300.
HP also plans to open 13 VR "immersion centers" this year in cities that include Palo Alto, Houston, London, Paris and Tokyo. At these centers, visitors will be able to try out HP's VR systems, and get advice from HP consultants on how to use VR in their own businesses.
HP now boasts a pretty extensive line of VR-ready systems. In addition to the new backpack system, HP is also supporting VR on its ZBook 17 mobile workstation, Z desktop workstations, EliteDesk 800 G3 tower, and Omen X compact desktop.
HP is also participating in a project that will use VR to simulate life on Mars. Called HP Mars Home Planet, the project has also attracted participation from Nvidia, Autodesk, Fusion, Launch Forth, Technicolor, Unreal Engine and Vive. The one-year project aims to show what a human population of 1 million people could like on Mars, complete with farms, buildings, vehicles and even clothing.
So is VR finally getting real? HP sure thinks so.
Learn more: View the HP Z VR Backpack data sheet.
You may also enjoy:
VR-ready PCs are coming, but a price
Mixed reality gets real at big Computex show
HP's revamped All-in-Ones are aimed at kids, but worthy of biz
Back to top