Graphics designers, illustrators, video producers and other visually creative customers should be excited to learn that Dell's latest system is now shipping.
It's called the Dell Canvas. The device was introduced at the CES show in January, and at the time, Dell said shipments would begin in March 30. Well, that was delayed a bit.
But at last week's big SIGGRAPH computer-graphics show, Dell said the system is indeed now available directly from the company's site.
The Canvas is essentially a 27-inch QHD display with a digital pressure-sensitive pen and a "ring totem" pointing device. Here's a look: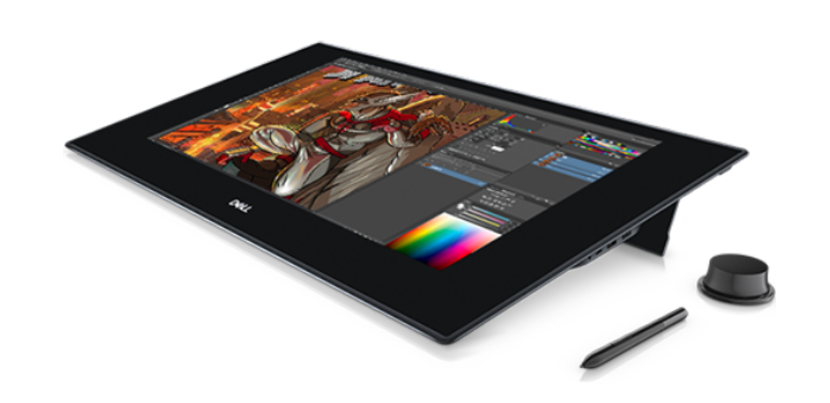 The Dell Canvas features a 27-inch QHD display with digital pen and ring totem pointer.
The Dell system is similar to Microsoft's Surface Studio, but with one big difference. Where the Surface Studio is a standalone all-in-one Windows 10 PC, the Dell Canvas runs off the user's existing Windows 10 laptop, desktop or All-in-One.
Also, the Surface Studio has a starting retail price of just under $3,000, while the Dell Canvas starts at $1,800 — though, again, that does not include the PC. There's also an optional articulating stand for the Dell Canvas, and it retails for $500.
Win10 environment
The Dell Canvas is designed to work with Microsoft's Windows 10 Creators Update, which is itself scheduled for a major upgrade next month.
When working with a Win10 PC, the Canvas sits horizontally on the desk, like a giant notepad. Dell says the screen features 20 points of touch recognition with pressure sensitivity. Your customers will see very little lag between pen and screen, Dell adds, thanks to the bonding of the LCD panel to its Gorilla Glass anti-glare covering.
Got visually creative customers? This is a new system they may like.
Learn more:
Dell Canvas features and tech specs
Don't miss related blog posts:
HP's revamped All-in-Ones look worthy for business
2-in-1s poised for growth as tablet sales falter
Dell, LG offer cool curved monitors — but deep pockets required
Back to top