When it comes to the cloud, chances are good your midsize customers run a mix of cloud infrastructures — public, private on-premises and private hosted clouds. Chances are also good they need your help managing this complex mix.
Hybrid cloud has become the new normal. That's because the cloud isn't a one-size-fits-all technology. Instead, smart data-center managers mix and match cloud types to take advantage of each variant's strengths and avoid its weaknesses:
> Public: a powerful and easy way to cut costs on routine data processing and storage, especially processes affected by seasonal variations (for example, retail in December), but many worry about its level of security.
> Private on-prem: ideal for confidential data that demands the assurance of high levels of both security and privacy, but more costly than public.
> Hosted private: a compromise that combines pretty-good security with somewhat lower costs.
Unfortunately, the tools and processes your customers have needed to manage this hybrid cloud infrastructure have fallen behind. Many tools have simply been too immature to satisfy your customers' needs for multicloud management. Until now, that is.
Multicloud management
Now you can offer your midsize data-center customers an innovative solution for multicloud management offered jointly by Intel and OnApp. This solution helps data-center managers create their own agile and scalable IT environments quickly and securely.
The Intel/OnApp solution provides a single view of an organization's multiple clouds, whether they're public, private, hosted, or even traditional servers.
This makes it easy to check access, governance and workload placement. For example, if your customer experiences a temporary outage or seasonal spike, they can use the Intel/OnApp solution to quickly shift IT resources where they're needed.
The Intel/OnApp solution can manage many of today's popular cloud services, including VMware, OpenStack, Amazon AWS and Google. The functions offered should handle everything your customers will need, including virtual machine (VM) provisioning, VM management, workload migration, backup, disaster recovery (DR) and more, as shown here: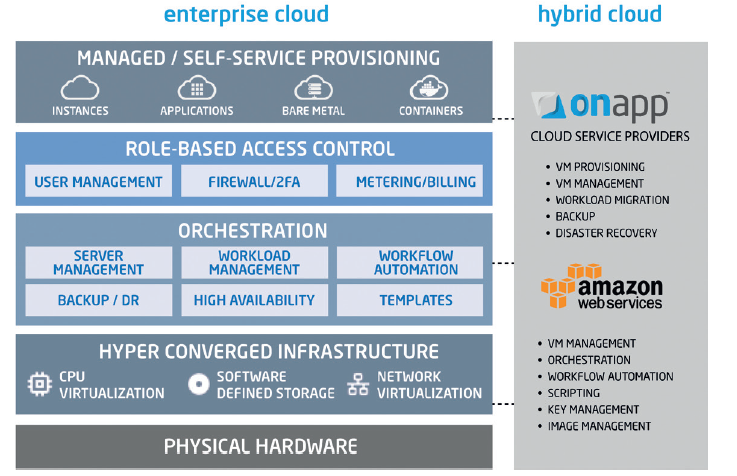 The Intel/OnApp solution offers data-center customers a powerful solution for multicloud management.
Software-defined storage is included, too. This means your customers can build a cloud without having to invest in a proprietary storage area network (SAN). Instead, the Intel/OnApp solution pools the capacity of their disks, creating a distributed storage environment.
Multi-benefits, too
By bringing together multiple virtual platforms and services, the Intel/OnApp solution can deliver several benefits to your customers. These include simpler strategies, increased utilization of infrastructure, and optimized workload placement — all of which can lead to improved price/performance, compliance and DR. 
The OnApp solution runs on an Intel server chassis powered by Intel Xeon processors, meaning solution providers can offer this as a turnkey solution. You can also offer it as a white-box solution.
The Intel/OnApp solution has been designed to be quick and easy to implement. OnApp's promise: setup in as little as a day.
On top of all that, OnApp says its solution costs less than a third of other solutions. And if things should go wrong, OnApp offers 24x7 global support via both phone and email.
Sound like something your midsized customers could go for? The chances are good.
Learn more: Check out the Intel/OnApp solution for multicloud management.
Back to top