When Intel introduced its 8th Gen Core processor family last week, one question was whether the new CPUs would help solution providers refresh customers' older PCs.
If two new systems from Acer are any indication — both are built around the 8th Gen Intel "Coffee Lake" CPUs — then the answer is yes.
All-in-One
First up is Acer's Aspire S24, an all-in-one PC with a 23.8-inch display. Acer says the device, introduced yesterday at the IFA conference in Berlin, is its slimmest all-in-one. The Aspire S24's side profile measures just 5.97 mm — that's less than a quarter of an inch.
As mentioned, processing is provided by an 8th Gen Intel Core i5 or i7 processor, and Intel Optane memory is being offered as an option. Plenty of storage is offered, too: up to 256GB of SSD and 1TB of HDD.
The system software is Windows 10 Home. High-end audio is provided by Dolby sound.
One cool feature is the system's wireless charging base. This lets users recharge the batteries of mobile devices enabled by Qi, an open interface standard for inductive charging, without needing cables.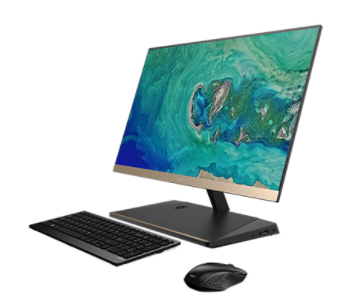 North American shipments of the Acer Aspire S24 are set to begin in January. The retail price has been set at about $1,000.
Gaming notebook
The second new Acer system with 8th Gen Intel processor power is the Nitro 5 Spin. Introduced last week, it's a notebook designed for what Acer calls casual gaming.
Like the Aspire 24, this Acer system is powered by an 8th Gen Intel Core i5 or i7 processor, and it too runs on Windows 10 Home. A PCIe SSD offers up to 512GB of storage. The full HD display measures 15.6 inches. Battery life is promised at up to 10 hours.
Acer says the performance improvements offered by the latest Intel CPUs — up to 40% — makes it possible to offer a gaming and entertainment system in a flexible and sleek device.
For gamers, the notebook system packs an NVIDIA GeForce GTX 1050 graphics processor, as well as front-facing speakers with a subwoofer for deep bass. There's also Acer's ExoAmp Antenna, which promises to ensure a stable wireless signal for smooth streaming.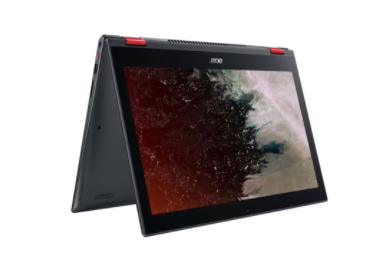 The Nitro 5 Spin's 360-degree hinge allows gameplay in any of 4 modes.  
For security, the Nitro 5 Spin offers a fingerprint reader. It works with Windows Hello to verify the owner's identity.
Shipments are set to begin in October, and this gaming laptop will retail for $1,000 and up.
The future looks bright for Windows 10 systems powered by the new 8th Gen Intel Core processors. If your customers haven't been tempted to refresh their older PCs yet, they will be soon.
Also see:
Will the new 8th Gen Intel Core family help you refresh PCs?
ASUS, Dell offer cool new gaming hardware
Intel's NUC mini-PCs get specific
Back to top