"AI could be your next doctor," reads the headline of an IDC press release issued earlier today.
Sound outlandish? With Intel's new Myriad X processor, maybe not.
The Myriad X, which Intel announced last week, combines vision processing and neural computing to deliver artificial intelligence to the edge in a low-power, high-performance package.
Remi El-Ouazzane, an Intel VP and GM of the company's Movidius AI company, writes in a blog post that Myriad X will "unleash innovation for a new future of intelligent and autonomous devices." He says applications for the new visual processing unit (VPU) could include autonomous delivery drones, security cameras, virtual and augmented reality, even personal robots.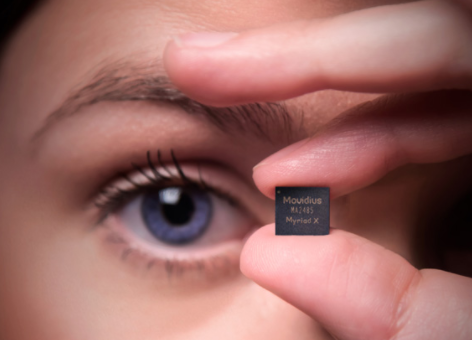 The Myriad X measures just 8.1 x 8.8 mm.
Intel says the Myriad X is the first system on a chip (SOC) with a dedicated neural compute engine that enables devices to see, understand and respond to their environments.
That kind of work takes speed. That's why Myriad X's compute performance is promised at up to 1 trillion operations per second (TOPS) on deep neural-network interfaces, and more than 4 TOPS of total performance.
The processor measures just 8.1 by 8.8 mm — that's about a third of an inch on each side. But it packs in 16 programmable vector engines, 2.5 MB of on-chip memory, intelligent memory fabric and dedicated accelerators for neural networks, imaging and vision. Intel says the VPU can simultaneously support up to 8 HD-resolution cameras.
Healthy vision
Intel doesn't mention healthcare solutions as part of the Myriad X documentation, but the new IDC report gives a tempting hint. Ashwin Moduga, an IDC research manager, believes hospitals in areas where healthcare practitioners are scarce will use AI for medical-image diagnoses.
"In the next 2 to 3 years," Moduga writes, "hospitals will have passed the stage of experimenting with simple automation and begin to invest on deep learning algorithms that make sense and generates actionable insight out of the geometrically growing, unstructured data sets, from personal and hospital health information management systems."
As Shakespeare might have written: O brave new world, that has such devices in it!
Also see:
How the new 8th Gen Intel Core CPUs help you refresh PCs
Mobileye: Intel's $15.3 billion investment in self-driving cars
Game on! Optane memory from Intel for gaming PCs
Back to top