Intel is getting serious about commercial drones. How about you?
Earlier this year, Intel demonstrated its Falcon 8+ drone and announced Mission Control software to facilitate drone flight planning, management and post-processing.
Yesterday, Intel CEO Brian Krzanich delivered the grand keynote at InterDrone, a conference and exhibit being held this week in Las Vegas. He declared that "data is the new oil."
During his keynote, Krzanich also demo'd an Intel drone equipped with Intel RealSense vision-processing technology. And he introduced Intel Insight, a cloud-based platform for crunching data collected by drones.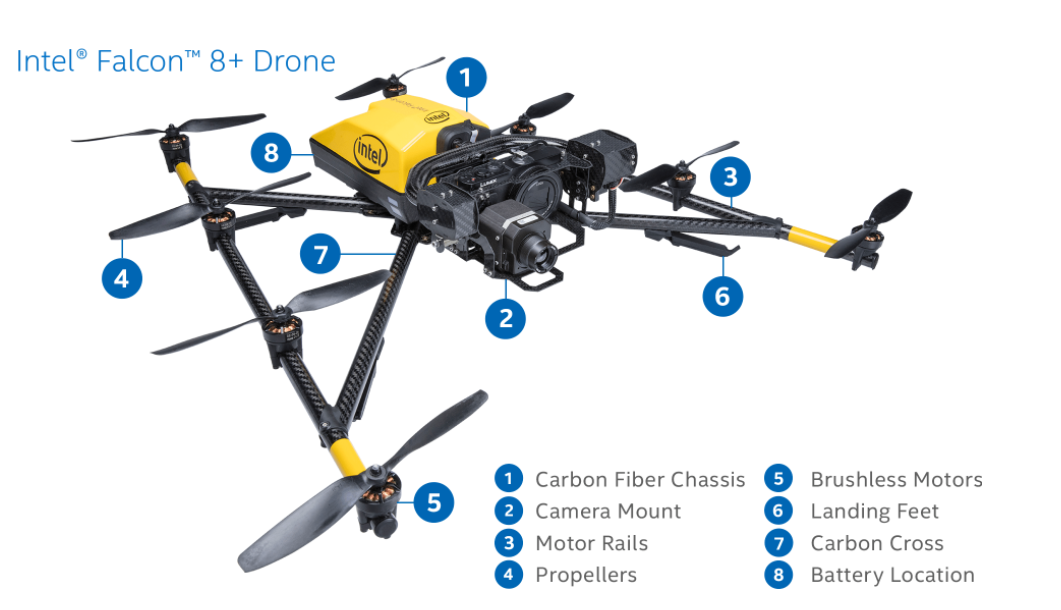 Intel's Falcon 8+ drone: designed for inspection and close mapping.
Intel Insight
Intel's new Insight platform will initially be offered only to what the company describes as "select enterprise accounts." Likely applications are said to include construction, agriculture, mining, and oil and gas.
Intel Insight was co-developed with a French company, Delair. Founded in 2011, Delair describes itself as "a leader in professional UAVs." That's short for Unmanned Aerial Vehicles, a fancy name for drones.
Intel Insight can generate both 2D and 3D images, take measurements, make annotations, run advanced data analytics such as change detection and plant counting. And when combined with Intel's RealSense technology, it can also help drones avoid obstacles and assist piloting with Intel's Mission Control software.
Drone market growing
Intel isn't alone in thinking the drone business could be big. Market watcher IDC recently predicted that worldwide purchases of drones and after-market drone hardware will approach $7 billion this year.
IDC considers drones part of the larger market for robotics. That broader business, IDC believes, will enjoy an impressive compound annual growth rate (CAGR) of nearly 23% through 2021, topping $230 billion. And within the larger robotics market, drones will be the fastest-growing category.
Harvey help
The power of drones was recently demonstrated in the wake of the devastating Hurricane Harvey. In Texas, where the storm made landfall, several local police departments used drones to assess the damage and advise residents, according to our colleagues at IoT Solution Provider.
For example, the Aransas Pass (Texas) Police Department recorded several minutes of drone footage, then posted the images on its social-media channels. In nearby McAllen, Texas, a 2-man drone operating team from the local police department worked with FEMA on search-and-rescue missions. And in Houston, officials used drone footage to monitor neighborhoods, freeways and traffic flow after the storm. 
The Texas Department of Transportation also used drones and highway surveillance cameras to record images, then post them on a Twitter feed. These images alerted drivers to flooding hazards on local freeways, underpasses and thoroughfares.
So the drones are coming. Solution providers, this is a new business opportunity on the wing.
Learn more:
> Visit an Intel portal: Welcome to the Future of Commercial Drones
> Check out the Intel Falcon 8+ Drone product page
> Explore the Intel Insight Platform for commercial drones
You may also enjoy:
Intel Myriad X processor: bringing AI to the edge
Refresh older PCs with 8th Gen Intel Core processors
Intel's NUC mini-PC gets specific
Back to top