PC makers are showing renewed interest in the creative-computing market. If your clients routinely work with audio, video and or computer-aided design (CAD), now might be a good time to present them with some cool new options.
Microsoft: A Bite out of Apple
With Microsoft's introduction in October of the Surface Studio all-in-one PC, the company has clearly set its sights set on Apple's ample revenue. The Surface Studio looks like an iMac with its modern aluminum chassis and mysterious black bezel. But Microsoft clearly upped the ante, pulling out some nifty magic tricks you simply can't do on a Mac.
For example: Surface Studio has 10-point touch capability, meaning you can use all 10 of your fingers to manipulate graphics, video content and more on its 28-inch PixelSense display. Trying putting your finger on an iMac screen; all you'll get is a smudge! 
Or, if you prefer to keep your hands to yourself, you can opt for Microsoft's pressure-sensitive pen in one hand and unique Surface Dial in the other. The Surface Dial is a round, jog-dial-type input device. Place the Dial on the Surface Studio's screen, and you can manipulate objects and access app-specific radial menus.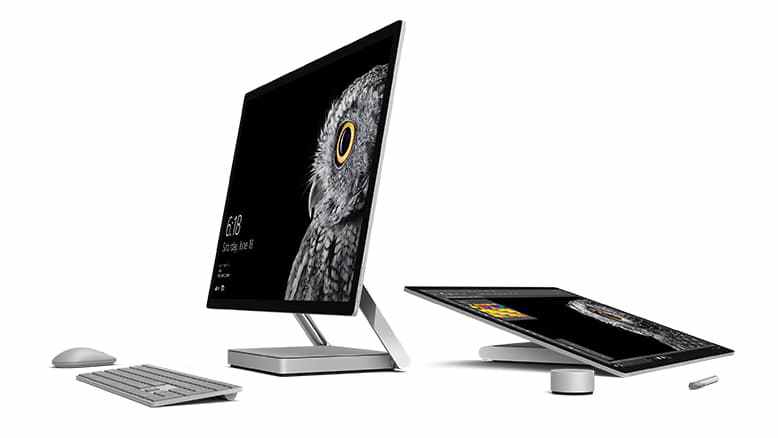 To be sure, Microsoft's Surface Studio isn't cheap. Your clients will need to shell out at least $3,000 to get started. Compared with Apple, that's pretty steep. You can get a similarly spec'd iMac from Apple for around $1,800. Of course, the iMac doesn't offer a touch screen. And a professional graphics pen from Wacom or Cintiq can cost as much as $2,800.
HP: Bidding for CAD
All those advantages aside, Microsoft may find it difficult to get graphic designers to switch from the iMac. But CAD specialists are far more platform-agnostic. Apps like the industry-standard AutoCAD often end up on high-performance Windows machines. These PCs offer the option to aggregate multiple graphics cards and memory modules to help tackle bigger jobs.
HP's Z2 Mini, introduced last month, doesn't offer quite that level of expandability, but this miniworkstation does come with a ton of power for a tiny box measuring just 8.5 x 8.5 x 2.3 inches. It runs the user's choice of Windows 10 Pro or Linux, and it supports up to 6 displays (the first 4 native, then 2 with daisy chaining). The Z2 Mini also carries a price tag your clients are sure to love — just $700. (Though that does not include a keyboard, mouse or display. A fully configured setup will retail for much more.)
HP calls the Z2 Mini "the world's first mini-workstation designed for CAD users." To shrink the size of a proper workstation computer, HP had to do 2 big things: pack far more horsepower than your average PC into a tiny space, and keep all that power from both overheating and shutting down the whole system.
To achieve these goals, HP engineers came up with a custom cooling system. The Z2 Mini uses 2 horizontally-opposed fans. As the HP photo below shows, the fans draw air in and across vital components (blue arrows), then push it out the back (red). This cooling method isn't novel in and of itself, of course. The novelty lies in how HP made it work with this much power, and in that small of a space.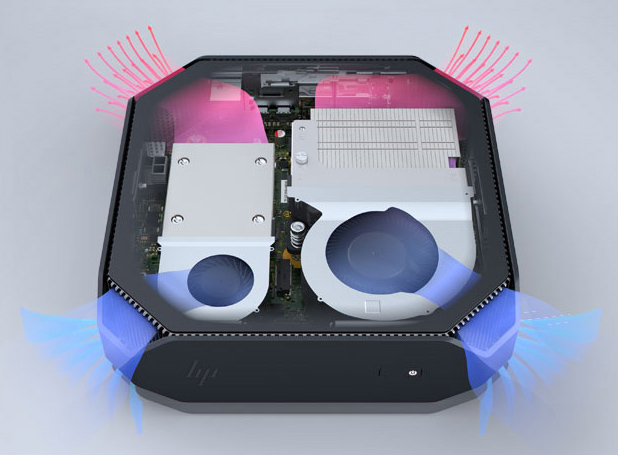 As for speed, well, the Z2 Mini has plenty. Professional CAD projects need the kind of torque you can get only from a high-end CPU and GPU. So HP went right to the head of class. It offers the option of an Intel Xeon E3-1200v5 processor and NVIDIA Quadro workstation-class graphics with 2GB of video memory.
The Z2 Mini also has room for up to 32GB of DDR4 RAM and two 2.5-inch conventional or solid-state drives (SSDs). Somehow, HP packed all of that into a box you could fit in a car's glove compartment.
Technology is amazing, isn't it?
And don't miss:
Why low-cost tablets are here to stay
6 coolest compute devices of 2016
To get big in PCs, think small (devices, that is)
Back to top