Your clients have already heard about virtual reality (VR), but how about reality that's "mixed" or "merged"?
If not, you'll need to help them. Merged reality is a big concept now being promoted by Microsoft and partners including Intel, Acer, Dell, HP and Lenovo.
Merged reality blends physical and virtual worlds. For example, you might augment a real brick-and-mortar office with virtual objects such as floating displays, maps, even avatars. To see and interact with these virtual objects in a real office, you'd need to wear a mixed-reality headset.
Next-Gen PCs
At a Windows Hardware Engineering Community (WinHEC) event held yesterday in Shenzen, China, Terry Myerson, Microsoft's executive VP of Windows and devices, announced several new merged-reality initiatives.
Microsoft will work with its partners, Myerson said, to "build the next generation of modern PCs supporting mixed reality, gaming, advanced security and artificial intelligence; make mixed reality mainstream; and introduce always-connected, more power-efficient cellular PCs running Windows 10."
Also at the WinHEC event, Myerson and Navin Shenoy, Intel's GM of client computing, jointly introduced Project Evo. This cooperative venture, they said, will include work in 4 major areas: mixed reality, gaming, Cortana (Microsoft's voice-activated assistant) and Windows Hello security.
In an online editorial, Intel's Shenoy described Project Evo as one way the two companies are "working together to bring immersive merged reality experiences into the mainstream."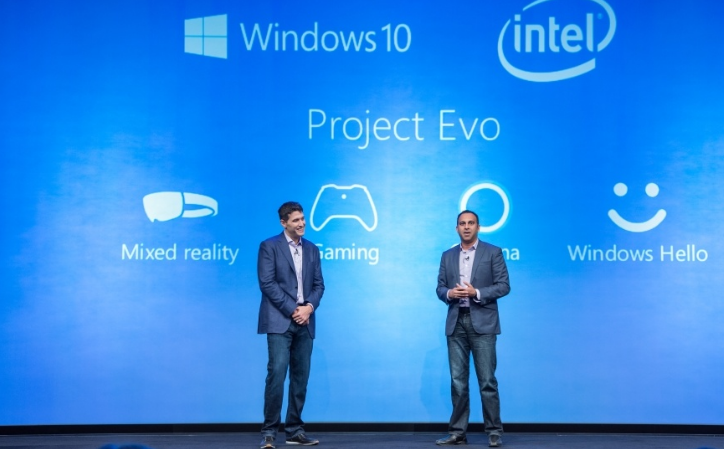 Terry Myerson (left) and Navin Shenoy introduce Project Evo
~~~~~~~~~~~~~~~~~~~~~~~~~~~~~~~~~~~~~~~~~~~~~~
Here are some examples of what Project Evo could deliver:
> Far-field speech communications: Ask Cortana a question, or play a song, from across the room.
> New security capabilities: Protect devices from malware and hacking threats with Windows Hello biometric authentication, insights from Microsoft's Intelligent Security Graph, world-class security intelligence, and analytics from Intel.
> Mixed reality experiences for everyone: Affordable PCs and head-mounted displays will blend physical and virtual realities in new ways.
> Gaming innovations: These include eSports, game broadcasting and support for 4K, High Dynamic Range (HDR), Wide Color Gamut (WCG), spatial audio, and Xbox controllers with native Bluetooth.
HMDs Coming
On the mixed-reality front, Microsoft says, the first Windows 10-compatible head-mounted displays (HMDs) capable of handling mixed reality will be available next year from ASUS, Dell, HP and Lenovo. Also, Microsoft says it will offer developer kits for HMDs at the Game Developers Conference, being held March 1-3, 2017, in San Francisco.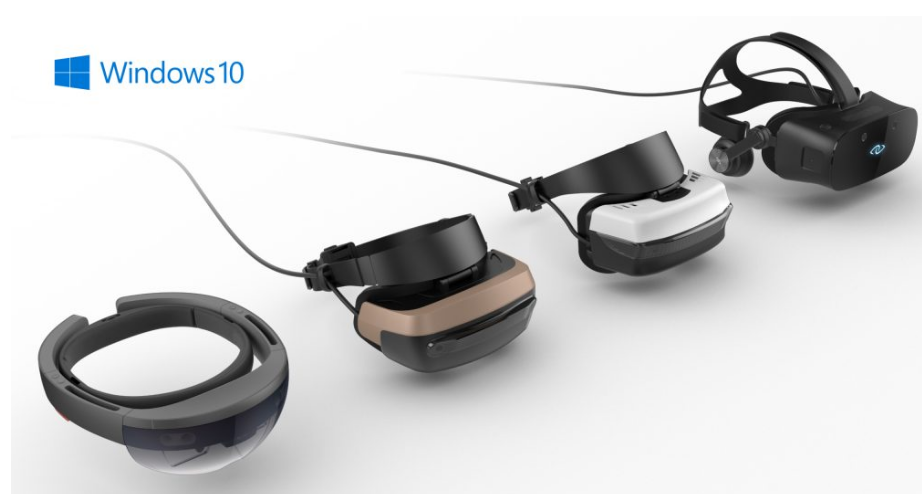 PS: Windows 10 is making great progress, too. Myerson revealed yesterday that Microsoft's OEM partners — including ASUS, Dell, HP and Lenovo — have so far created more than 300 devices based on its latest PC operating system. And these devices are shipping in 75 countries. That's pretty real.
Also check out:
To get big in PCs next year, think small
Microsoft updates Windows 10, adds 2 new devices
PC market: a glass half empty — or half full?
Back to top