Tablet prices are coming down — way down. As the R&D costs of last year's microarchitecture development melt away, OEMs including Microsoft, Amazon and ASUS are focusing on high sales volume over profit margins.
It seems to be working. A report from Statista predicts that 60.3 million tablets will be sold in the U.S. this year, up more than 5 percent from last year's 57.1 million units. Several reasons account for this upswing in tablet sales. But surely the most powerful must be a marked dip in retail pricing.
Consider: Your clients could pay as much as $1,129 for a full-blown Apple iPad Pro, if that's the tablet they insist on. Or they could just pay $49.
That's the paltry fee Microsoft recently charged during its 1-day sale on NuVision's Duo 10 tablet (pictured), which offers both Windows and full HD. While the Duo 10 isn't the only sub-$100 tablet in town, it certainly is the most powerful.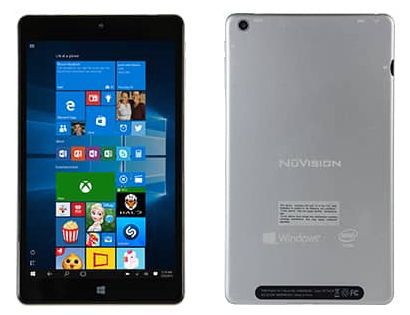 NuVision Duo 10: a real Windows tablet for under $100
No Popcorn
So what does that $49 buy you? Here in New York City, just 3 movie tickets — popcorn not included! But during the Microsoft sale, it got you a Windows tablet with an 8-inch, 1920x1080 display; 2GB of RAM; 32GB of flash storage, and — wait for it — quad-core Atom "Bay Trail" processor. Need more juice? No problem. For 10 bucks more, you can get an Atom x5-Z8300 "Cherry Trail" quad-core.
Sure, your clients could also buy an Amazon Fire tablet for less than $50. But does Amazon's device include all that speed? No. Can it run Windows desktop apps? No. Will it power your customer's mobile workforce? Absolutely not.
As of today, the Duo 10's price is up a bit, to $99. And it seems that sale really moved the merchandise; Microsoft Store now shows the device as "out of stock." But you get the idea: Low-priced tablets are real.
Getting Mighty Crowded
While the NuVision Duo 10 certainly takes first price for cheapest, most capable tablet of the season, there are other cost-effective options. That's especially true if your customers don't mind spending more to get a better brand name, higher build quality and faster specs.
For instance, Dell, Huawei and ASUS have all launched low-cost tablets this year. The cheapest of the bunch run Android — not usually a deal breaker, but not as business-centric as Windows. On the plus side, these devices offer beautiful graphics, impressive specs and lots of possibilities.
Yoga Positions
If Windows is a must, you can introduce your customers to the Lenovo Yoga Tablet 2. While the price tag, starting at about $350, might seem bloated compared to the impossibly cheap NuVision, it's actually a steal.
Here's why: The Lenovo Yoga Tablet 2 is a hard-core business slate with all the trimmings. Those trimmings include Windows 8.1; a choice of 8-, 10- or 13-inch HD display; 1.33GHz Atom Z3745 quad-core processor; 2GB of RAM; 32GB of memory; a detachable keyboard; and AnyPen technology, which lets the user write on the screen with, um, any ballpoint pen. Battery life is promised at up to 18 hours.
Cheap tablets are here to stay. While they might not always cost less than dinner for 2 at Applebee's, all signs point to a near future filled with falling prices and rising specs. That's good for all of us.
And don't miss:
Tablet market: a true roller-coaster ride
To get big in PCs, think small — devices, that is
7th Gen Intel Core processor family: Your recap of our live chat
Back to top