Both Lenovo and Samsung introduced new 2-in-1s this week, but each supplier is taking a different path.
Lenovo's new device, the Flex 11, is a Chromebook for consumers.
Samsung's new Galaxy Book, by contrast, is a Windows 10 device aimed at mobile professionals.
2-in-1 devices are popular for a reason: They combine the best features of tablets and laptop PCs. But solution providers have to ask: Which end of the market is more attractive, consumers or business pros? Depends on who you ask. Let's dig in.
Lenovo Flex 11
In a way, this new Lenovo device can be thought of as a 3-in-1. That is, it combines the form factor of a 2-in-1 with the software of a Chromebook. Like most 2-in-1s, the Flex 11 can be used in any of the usual 4 modes (see photo below). But like a Chromebook, it runs Android applications from the Chrome Web Store and (soon) Google Play Store.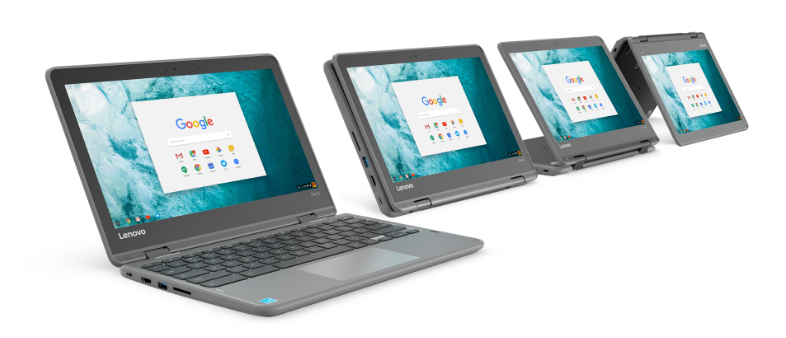 The Lenovo Flex 11 can operate in 4 modes like a 2-in-1, but runs Android apps.
Aiming at tight-spending consumers, Lenovo has set the Flex 11's retail price at a low $279.
The Flex 11 features an 11.6-inch HD display that supports 10-finger touch recognition, anti-glare technology and IPS for crisp images across a wide range of viewing angles. The device weighs about 3 pounds, has a water-resistant keyboard, and is said to be able to withstand a drop from as high as 2.4 feet. Ports offered include HDMI and USB C, and battery life is promised at up to 10 hours.
Samsung Galaxy Book
Samsung's Galaxy Book, by contrast, is all business, all the time. And it's priced accordingly. The 12-inch LTE model will be available starting tomorrow from Verizon for just under $1,300. Pre-orders for Wi-Fi versions of the Galaxy Book from general retailers (Best Buy, et al.) also start tomorrow; the 12-inch version will retail for about $1,130, while the 10.6-inch version retails for roughly $630. Samsung says they'll be in stores starting May 21.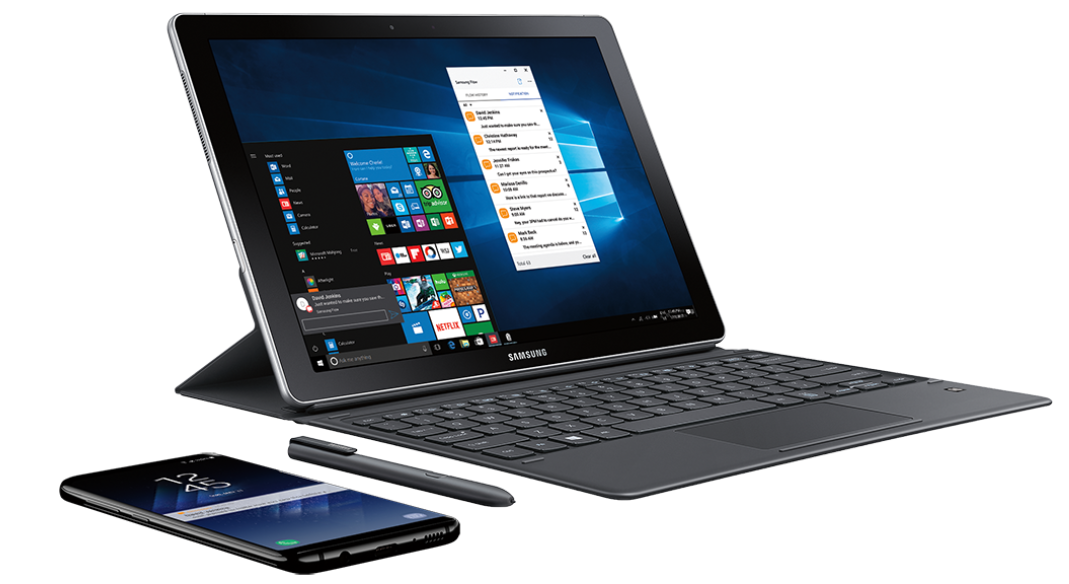 Samsung's Galaxy Book 2-in-1: designed for business professionals.
Under the hood, the new Samsung Galaxy Book runs on 7th Gen Intel Core processor (either m3 or i5, depending on model) and Windows 10, and it offers up to 8GB of memory and 256GB of storage. A digital S Pen is also included; it can be used to jot notes, edit PDF files, and more. The Galaxy Book device in its 12-inch version weighs 754 g. (approx. 1.7 lb.). For the casing, only 2 colors — both professionally serious — are available: silver and black.
Samsung also offers a feature called Flow that lets users transfer and sync files, messages and notifications between Samsung smartphones and Galaxy Book 2-in-1s. A nice feature for business pros on the go.
You may also enjoy:
HP intros 6 Pavilion PCs at cool music fest
PC sales in Q1 were tough, but biz systems help
7 things to know about Win10 Creators Update
Back to top