Today Lenovo introduced a low-cost tablet. Called the Yoga A12, the device runs only Android. Strictly speaking, it's a 2-in-1 device, thanks to its keyboard (more on that later) and 360-degree hinge. It's definitely low-cost, with a retail price starting at just under $300.
Back in December, my colleague Kevin Jacoby blogged about the rise of low-cost tablets. As he pointed out in his post, Why low-cost tablets are here to stay, while Apple is charging as much as $1,129 for a full-blown iPad Pro, other suppliers are offering tablets for as little as $50.
Lenovo is among the suppliers offering low-cost tablets. Its Yoga Tablet 2, for example, offers a choice of either full-blown Windows or Android, and it retails for about $350.
Now that device is joined by the Android-running A12. Here's a look at the Lenovo Yoga A12 (actually, 2 of them):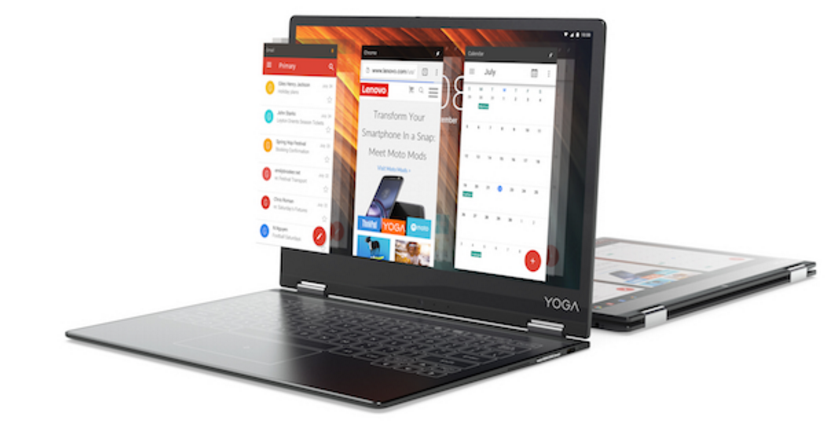 The A12's keyboard doesn't actually have keys. It's a flat surface, known as the Halo keyboard, with touch-sensitive virtual keys. Lenovo says the keyboard "learns" the user's typing habits and, with its prediction and artificial-learning software, becomes more accurate over time. For the record, the Halo keyboard was originally introduced last year as part of Lenovo's Yoga Book series.
Under the hood, the Lenovo A12 runs on an Intel Atom x5 processor with 2GB of memory and 32GB of storage. The display measures 12.2 inches. Lenovo promises up to 13 hours of battery life between charges. The device measures 5.4 mm thick and weighs a little over 2 pounds. And Lenovo plans to start taking orders for the new device later this week.
How about a Chrome version? Some of the tech blogs say Lenovo could have a Chrome version of the Yoga Book coming later this year.
For now, if you have clients who prefer Android smartphones over Apple's iOS, then the Lenovo A12, an Android-based 2-in-1, could be a good fit.
Also see:
Why low-cost tablets are here to stay
Intel Compute Card: a full compute platform, credit-card size
Lenovo refreshes its ThinkPad line
Back to top