After years of development, Intel has managed to shrink the humble PC to fit in a pocket. The company calls it the Compute Card.
It's a logical follow-on to Intel's mini-PC platform, a small desktop computer called the NUC (short for Next Unit of Computing). Introduced in 2012, the NUC has shrunk over the years, becoming smaller and smaller. The last version was just 4 inches squared.
The Compute Card's form factor is even smaller: 95 x 55 x 5 mm (approximately 3.7 x 2.2 x 0.2 inches). As Intel says, that's only slightly larger than a credit card.
But the Compute Card is not just small for small's sake. Instead, it's designed to offer modular, plug-and-play solutions for real-world applications that include POS (point of sale), mobile all-in-one (AIO) systems and smart whiteboards.
Intel envisions a world in which users can quickly and easily plug Compute Cards into compatible screens and docking systems (see photo below). This will let users quickly and efficiently update both internal and off-site systems, and all without costly, time-consuming hardware updates.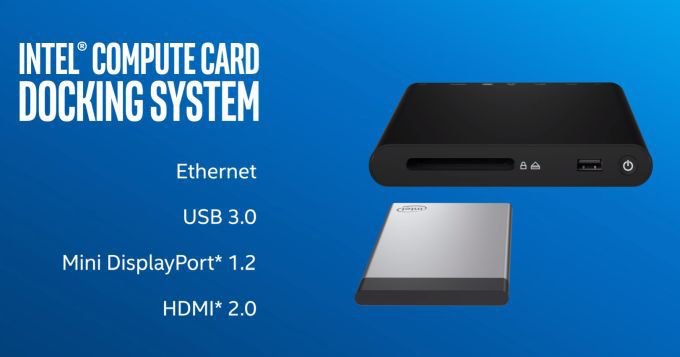 Picture, for instance, a franchise such as Dunkin' Donuts. With hundreds of locations around the country, and with multiple digital signs and POS systems in each store, a major systems upgrade could easily turn into a major expense.
But what if Dunkin' could instead simply send a set of tiny computers to each location? Then franchise owners could slip the new cards into each system and send back the old ones to be reprogrammed and repurposed. This kind of solution could save organizations millions of dollars over the long run.
Under the hood
How much power do you get in a Compute Card? Well, how much do you need? At the recent Computex 2017 show in Taiwan, Intel announced four Compute Card models scheduled to begin shipping in August. These cards, powered by Celeron and Pentium processors, are designed for tasks that require flexibility and low per-unit cost.
Each Compute Card includes 4GB of DDR3 memory and 64GB of eMMC (embedded Multi-Media Controller) storage, which is sort of a cross between a memory card and an SSD (solid state drive).
While that's a generous amount of storage for a computer this small, it may not be fast enough for resource-intensive tasks such as audiovisual production. So if your customers need more power — say, to replace a NUC or other mini-PC — they may want to consider an alternative: hgher-end Compute Card models with either Core i5 vPro or Core i3 processors.
Both include the same 4GB of DDR3 RAM as the lower-end models, but they have a much more robust storage solution: a 128GB Intel SSD with plenty of throughput to keep up with those faster processors. These models could be perfect for video conferencing, mobile computing and multimedia production.
All of Intel's Compute Card models include 802.11ac wireless cards. That should offer enough up/down speed to satisfy users who rely on cloud storage for file management. The Compute Cards also come standard with Bluetooth 4.2 for wireless connectivity with keyboards, mice, cameras and audio speakers.
Part of Intel's job has always been to look into the future and anticipate the needs of enterprise and SMB customers who are hungry for powerful, cost-effective, and easy to deploy solutions. Did Intel hit the mark this time? Time, and your customers, will tell.
And don't miss:
Smart, connected homes need smart, hi-speed networks
Why customers need 3D NAND memory
At Computex, new CPUs, always-connected PCs, mixed reality
Back to top