Do you need a just-in-time solution for tough mini PCs? If so, Intel is now giving you some new options.
Specifically, Intel has expanded its Intel NUC Rugged product line to include a modular option. This gives ecosystem partners and integrators new and flexible options for this popular mini PC.   
If you're not familiar with the Intel NUC Rugged, it's a mini PC built for tough environments. The Intel NUC Rugged can operate at temperatures ranging from a freezing 32 F to a sweltering 104 F. And with no fans, vents or moving parts, it's both dust-resistant and highly reliable. Intel warranties the Intel NUC Rugged for a solid 3 years.
The Intel NUC Rugged is plenty powerful, but also small. Measuring just 10 x 6 x 1.4 inches, it can get tucked away just about anywhere — behind digital signage, under a desk, next to a display, you name it.  
What's new
Intel is expanding the NUC Rugged family to include an option for partners and integrators. They can now offer their customers a range of Intel NUC Rugged CPU and chassis options via the Intel NUC Elements program.
As you may know, Intel NUC Elements provides a line of mini PC components that partners can mix and match. These include Intel NUC compute, board and chassis Elements.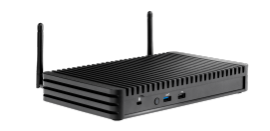 With Intel NUC Elements, tech providers can provide just-in-time custom system building while also lowering their inventory costs, delivering systems quickly, and differentiating themselves from competitors. All with the flexibility of modular computing.
What this means is you can now offer customers a range of Intel processors and boards with a choice of 3 Intel NUC Rugged chassis. The NUC Elements Rugged chassis has the same tough features as the "regular" Intel NUC Rugged kit. That includes the fanless/ventless design, minimal dust intrusion (at an IP50 rating), 24x7 operations, and multiple mounting options.
3 options
For the Intel NUC Rugged's chassis, Intel is offering three popular input/output configurations for tech providers who need a just-in-time solution:
> Expandable: Supports up to two 4K monitors via HDMI 2.0 ports. (SKU: CMCR1ABA)
> Dual LAN: Same as the expandable, plus a pair of USB 2.0 ports. (SKU: CMCR1ABB)
> Multiple HDMI: With a total of six HDMI ports, this chassis option supports either two 4K displays or up to six 1080p monitors. Another option is two triple-width 5760x1080 screens. (SKU: CMCR1ABC)
And here are Intel's specs for ports offered on all 3 chassis options:
> Intel i219-LM 10/100/1000 Mbps RJ45 Ethernet (CMCR1ABB adds a second Intel i211-AT GbE LAN)
> One front and two rear USB 3.1 gen 2 type A ports; one internal USB 3.0 header
> One front port and 2 internal USB 2.0 headers (CMCR1ABB adds a pair of back-panel USB 2.0 ports)
> Two RS232 serial port headers
> Up to 7.1 multichannel (or dual 8-channel) digital audio via HDMI
> Front-panel header with Vcc5/1A, 5Vsby2A, 3.3Vsby/1A
Get rugged
If you need a just-in-time solution for building tough mini PCs, take a good look at the Intel NUC Rugged Chassis Elements.
To dig even deeper, get the Intel NUC Rugged Chassis Elements specs.
Back to top