More PCs with the new 8th Gen Intel Core processors are coming from tier 1 suppliers. Last week HP announced new versions of 2 of its Spectre systems, the Spectre 13 and Spectre x360 13. Both feature sleek designs, long battery lives and the latest "Coffee Lake" processors from Intel.
For HP, this just might be a "third wave" moment. That comes from a framework developed by the company's CEO, Dion Weisler. As he recently explained to the New York Times, Weisler's "three waves of innovation" is based on a surfing analogy:
"Wave one is the wave you're on at the moment, the current core business. Wave two is about looking at all the waves that are coming in and deciding which one to choose. That's about growth.
And the third wave is what all great surfers do, which is to go home and pull the weather reports and figure out when the next big one is coming. In business, that's pure invention and category creation."
Dual Spectres
HP's new Spectre laptops are certainly inventive. In addition to the 8th Gen Intel Core processors, both PCs feature 4K displays and sleek aluminum cases. HP claims they offer the longest battery life in a quad-core convertible, and that the Spectre 13 is the world's thinnest touch laptop.
To be sure, the HP Spectre 13 laptop measures just 10.4 mm (0.4 inch). Under the hood: a choice of an 8th Gen Intel Core i5 or i7 processor, up to 16GB of memory, and up to 1TB of SSD storage.
There's also a full-sized backlit keyboard, 4K high-res touch screen with Gorilla Glass protection, high-end speakers from Bang & Olufsen, USB-C port, and infrared cooling system said to regulate system airflow.
The HP Spectre 13 laptop weighs 2.45 pounds. Its battery life is promised at up to 11.5 hours. There are 2 color options: ceramic white with pale gold highlights, and dark ash silver with copper accents. Here's a look, courtesy of HP.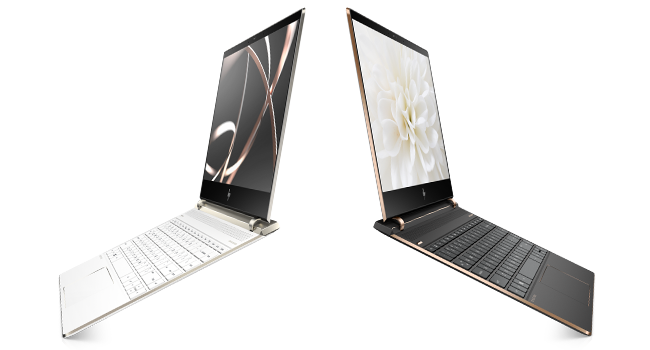 The HP Spectre 13 laptop 
The other new system, the HP Spectre x360 13 is being positioned as a convertible. Its 360-degree hinge means the user can position the device as a laptop, tablet, tent or media player.
The device is a tad thicker than the Spectre 13 laptop at 13.6 mm (0.5 inch), but that's still pretty thin. It weighs a bit more, too: 2.78 pounds. Here's a look, also courtesy of HP: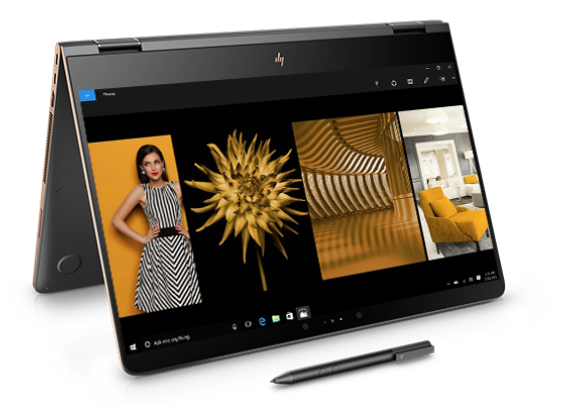 The HP Spectre x360 13 in tent mode, 1 of 4 placement options.
Under the hood, the x360 offers pretty much the same setup as the laptop: a choice of 8th Gen Intel Core i5 or i7 processor, up to 16GB of memory, and as much as 1TB of SSD storage. But its battery life is longer at a promised 16.5 hours.
Both systems are set to ship on Oct. 29. Starting retail prices are just $150 apart. The Spectre 13 laptop will retail for about $1,300 and up. And the Spectre x360 13 will retail starting at about $1,150.
Catch HP's third wave of innovation. Check out its new mobile PCs featuring the latest 8th Gen Intel Core processors.
You may also enjoy:
Laptops from Lenovo & Google look forward and back
New PCs with 8th Gen Intel Core CPUs are here
Acer intros systems with 8th Gen Intel Core processors
Back to top