Have your customers heard about Windows 10X? Do they think it's just another mobile operating system? Oh, it's way more than that.
Win10X is the harbinger of a change so fundamental, it will redefine the Windows OS forever.
Earlier this month, Microsoft threw itself a little party to introduce several shiny new Surface devices. Some are available for pre-order now, while others are "coming soon."
Included in this lineup of cool gear was a brand-new form factor, the Surface Neo, which should be available for next year's holiday season. Neo features two separate 9-inch screens, making it a brand-new way to interface with a mobile device.
Microsoft's new Surface Neo: two 9-inch screens
Since Neo is so different, it also needs a different kind of OS, one that takes into account the device's novel form factor and helps users make the most of it. That's where Windows 10X comes in.
A new expression
You can tell the marketing lunatics are running the tech asylum when Microsoft starts using phrases like "a new expression of our OS." This purple prose might seem laughable, but it's actually the perfect way to describe Windows 10X.
That's because Win10X is more than just a new operating system. It's actually a new way to interact with Windows 10.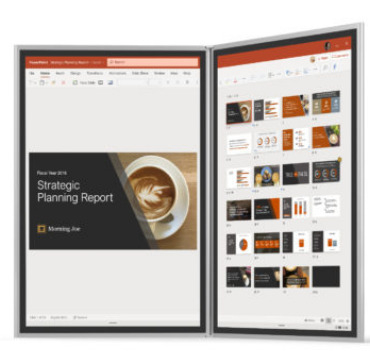 Windows 10X prototype screen shot
For example, the OS itself needs to assume that the user may want to view a presentation on one screen while taking notes on the other. Or maybe update a spreadsheet in real time while also video-chatting with their Chinese counterpart.
But let's be honest: Half the time one screen will be used for work while the other screen shows Minecraft, Facebook or goofy cat videos. The device may have changed, but we humans are still the same.
Here comes Windows Core?
Windows 10X can be an expression of Windows 10 only if the latter is re-conceptualized into a modular system. Win10 will need to think with its core and present with its, um, expressions. And that's exactly where Microsoft is headed.
As Tom Warren, a tech writer at The Verge, has discovered, 2020 will likely be the year of the new Microsoft Core OS (WCOS). Windows 10X could be one of many expressions designed specifically for the hardware on which it runs. Beneath it will be a common Core OS whose job is to provide the OS functionality we've come to rely on.
Expression proliferation?
Once Microsoft has the Core OS set up, it's just a matter of time before the company completely overdoes the expression thing. Having just announced no fewer than five new Surface products — plus a new OS — Microsoft will inevitably spend no small amount of R&D money inventing fabulous new toys to play with. You can bet each one will have its own Windows 10 expression.
For now, though, Microsoft is making a smart move: It's endowing Surface Neo's little sibling, Surface Duo, with Android powers. The smaller, dual-8-inch-screen Surface Duo, which is also due out around Holiday 2020, should make it easy to find the perfect app for whatever your customers are doing. Android development is fast, powerful and never-ending. Can't argue with that!
But where does that leave Surface Neo? Well, Microsoft can't give away the farm to Google, so the Neo will be a Windows device through-and-through. It should also have some helpful features, such as a 32-bit emulator to help widen the field of potential apps, and a smartphone-style launcher.
Hey, no more Tiles! That's gotta be good news, right?
Back to top