Microsoft recently released the latest beta of Windows 10. If you have customers using 2-in-1 devices including the Surface Pro and other popular convertibles, this version of the OS has some valuable updates for them.
The Aug. 29 beta, formally known as Windows 10 Insider Preview Build 18970 (Version 20H1), may not represent a quantum leap in modern OS design. But it does point to some much-needed improvements. Your customers should be very pleased to welcome this new addition onto their personal computers.
Desktop UI in tablet mode — finally
A lot of mobile Windows users are going to be happy about this update. If your customers are annoyed every time they see those colored tiles pop up by default when they switch to tablet-mode, tell them help is on the way.
Version 20H1 is the beginning of a brand-new tablet experience for power users. They'll get the convenience of a touchscreen with the flexibility of a desktop OS.
Now, when you pop off or fold away the keyboard on your 2-in-1, there's a new desktop interface for serious work. Sure, you can get back to the big colored tiles any time. It's just that now you have options.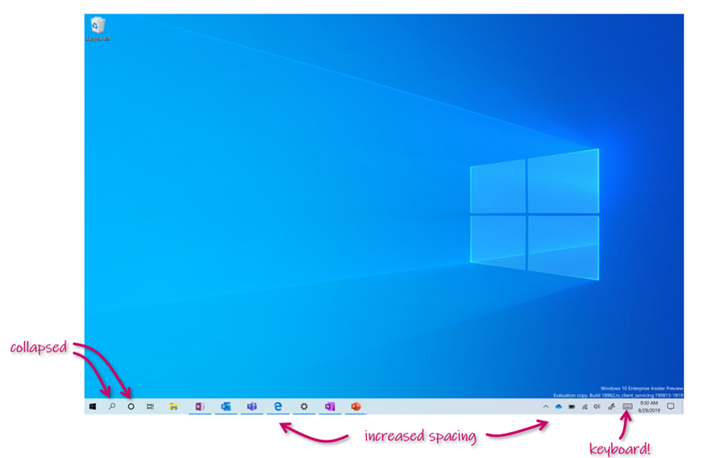 Windows 10 Version 20H1: subtle changes make all the difference
By design, the desktop OS in tablet mode is nearly identical to the one you'll see when using the convertible as a standard laptop. But it does have a few subtle changes, and they make all the difference. Two stand apart from the rest:
> A noticeable restructuring of user-interface (UI) elements. For instance, users will find that items in the dock are easier to use because they're spaced further apart. It's easy to pinpoint a tiny icon when you're wielding a high-resolution laser mouse. But when fingers come into play, a little more space helps prevent frustrating mistakes.
> A new virtual-keyboard icon. To save space, the on-screen keyboard is tucked away. But when it's data-entry time, a quick click brings up the keyboard. When you're done, another quick click and the keyboard is hidden.
One refreshing refresh
MacOS users have for years known the glory of the cloud-based OS refresh. We'll side-step the question of why it took Microsoft so long to implement something so obviously helpful, and just go right to celebrating its arrival.
Now you can finally tell your customers to put away that dust-covered USB thumb drive containing a crusty old version of some bygone Windows ISO. That was the old way of doing things. The new way is far, far better.
Now, when Windows starts to get squirrelly from months of abuse and that ill-advised app-of-the-week installation, your customers can now bring the operating system back to perfect working order quickly and easily.
No need to worry about all that user-generated data, either. It stays where it was — unless, that is, you choose "Remove Everything." Anything short of that scorched-earth policy will leave their documents and cat videos where they are, while replacing whatever OS is currently installed with a fresh copy.
Coming soon?
There's no word on an official release date yet. But the new features are being presented in Preview Build 18970 (20H1), which is available to any beta user in the Insider Program. So the widespread arrival of the new features should be just over the horizon.
If you get a jump on things now, later you can lend a hand to your customers when the official versions arrive. So today's a good time to download the beta. Good luck!
Back to top