Last week Intel officially launched its 8th Generation Core processor family, codenamed Coffee Lake, from Oregon, just hours before the solar eclipse. First to hit the market will be a quartet of mobile chips.
Looking for help refreshing your customers' older systems? Intel says its new 8th Gen Core processors can provide a performance improvement of up to 40%, delivering a 2x performance boost over PCs built 5 years ago.
But this latest release may also prove controversial. That's because Coffee Lake forces system builders to redesign their product architecture based on the new 300-series chipset.
More speed, more cores
But make no mistake: The 8th Gen Intel Cores will indeed be faster. In part because Intel has doubled the number of physical cores and virtual threads.
The new 8th generation parts — they'll occupy the same price bands as their predecessors — now offer 4 cores (up from 2 in 7th Gen) and 8 threads. The extra cores account for 25% of the performance increase.
The remainder of the speed bump can be attributed to 2 other factors: manufacturing improvements resulting in higher clock speeds, and design refinements like the switch to 14nm+ lithography.
Battery life also gets a big upgrade in the Coffee Lake mobile processors. For example, Intel says the new Core i5 and i7 U-series processors can stream 4K ultra-high-definition (UHD) video on a single charge for up to 10 hours.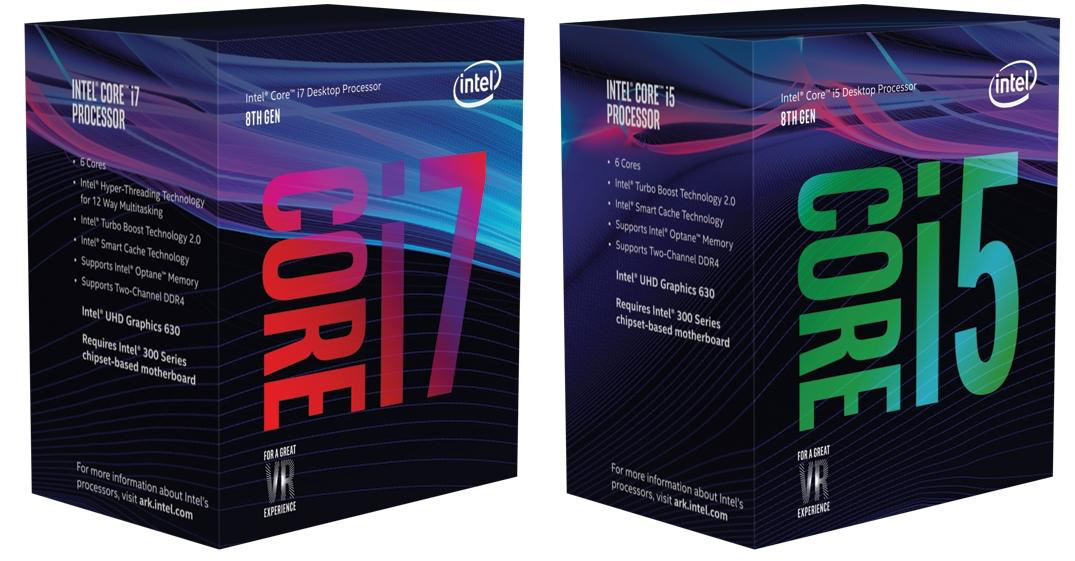 Mandatory motherboards
As mentioned above, Intel has already ruffled a few feathers with this update. It all started with a tweet from motherboard manufacturer ASRock, confirming that Coffee Lake chips would not be compatible with the current crop of 200-series motherboards.
The tweet — which was later deleted — set off a tirade of complaints from systems builders. They worried about the added cost and complexity of a chipset switch so soon after the recent upgrade to Z270-based motherboards.
Erik Stromquist, chief operating officer of system builder CTL, summed up the issue in a recent interview with CRN: "For the channel, redesigning systems again will mean incurring additional costs. But that is nothing compared to potential loss of customers from a motherboard change."
Future releases
Meanwhile, Intel, during its August 21 Facebook Live video, confirmed that the next release in the 8th Gen family will be desktop processors. They'll be followed first by corporate/enterprise-focused chips (likely including new vPro features), and then by a set of enthusiast mobile processors aimed at gamers, VR enthusiasts and content creators.
Intel has not yet announced a release date for the 8th Gen Core desktop line. However, some industry watchers believe Intel will go to market as soon as this fall.
These market watchers also expect Intel to release three new 6-core, 12-thread mainstream CPUs based on an updated 14nm+ manufacturing process. Some 10nm parts are expected, too, though it's not yet clear what form they'll take.
Big names, fast systems
Several top-line suppliers — including Acer, Dell, HP and Lenovo — plan to offer Coffee Lake-powered, Windows 10-running laptops, 2-in-1 convertibles, and ultra-thin notebooks as soon as next month.
For example, Dell today announced that its award-winning XPS 13 laptop will be available with an 8th Gen Intel Core CPU starting Sept. 12. But be aware that your customers will have to pay for the privilege.
Retail prices for Dell's XPS 13 with the previous 7th Gen Intel Core processor starts at about $800. Add the new 8th Gen CPU, and the same 13.3-inch system's starting price rockets up to nearly $1,400.
Intel believes users are so eager for PCs with more performance, they'll be willing to pay the price. How about you? Will you advise your customers to upgrade?
You may also enjoy:
8th Generation Intel Core Processor Family Debuts: Intel video replay
New 8th Gen Intel Core Processors: Simplifying Today, Opening the Door for What's Next: blog post by Gregory Bryant, Intel's GM of client computing
Intel pushes Optane memory for PC gaming systems
Back to top