At first glance, ultraslim laptop PCs may seem like a paradox.
Compared with traditional laptops, ultraslims are more expensive. Yet they also offer less — lower computing power, fewer ports and smaller screens.
So why would your customers want to pay more money for less computing oomph? Portability is one big reason. These devices, as the name implies, are slimmer than most laptops and therefore a lot easier to pack and lug around. 
Bent into shape
That's the case with Lenovo's supremely bendy ThinkPad X1 Yoga. With this ultraslim, less is more — a lot more. It weighs a respectable 3 pounds and measures only 17 mm (0.7 in.) thin.
Yet Lenovo's latest ultraslim 2-in-1 sports a brand-new engine. Under the hood you'll find one of Intel's four 8th generation U-series processors. For the base price of about $1,500, the ThinkPad X1 Yoga sports an Intel Core i5-8250U quad-core CPU running at 1.6GHz.
If your customers are focused on resource-intensive tasks such as graphic design and video editing, they can go all the way up to an Intel Core i7-8650U with vPro and an 8MB SmartCache. That's a lot of horsepower for a skinny device.
Lenovo ThinkPad X1 Yoga: quad-core wallop, flexible format
Looking for flexibility? Folding the ThinkPad X1's keyboard behind the 14-inch screen turns the ThinkPad X1 Yoga into one very powerful tablet.
Lenovo was smart to add its ThinkPad Pro Pen as part of the package. The pen has a slick, built-in charging dock that gives the user 100 minutes of use from just 15 seconds of charging.
Speaking of batteries, Lenovo says the ThinkPad X1 Yoga can work for up to 15 hours on a single charge. But remember, claims like that are usually based on the lowest specs. With fasters processors, more RAM and a brighter screen comes a more frequent need for charges. There's no way around it.
HP gets its style on
If Lenovo's ThinkPad is designed for a working lunch, the HP Spectre Folio is dressed for an executive meeting on a private jet. Clad from head to toe in furniture-grade leather, the Spectre Folio is a brand-new take on the ultraslim concept.
A unique hinge system gives the users more options than the average 2-in-1. In addition to the standard shape of a traditional laptops and tablets, Folio can contort into "easel mode," which puts the screen at a convenient, laid-back angle. This hides the keyboard while leaving the trackpad accessible.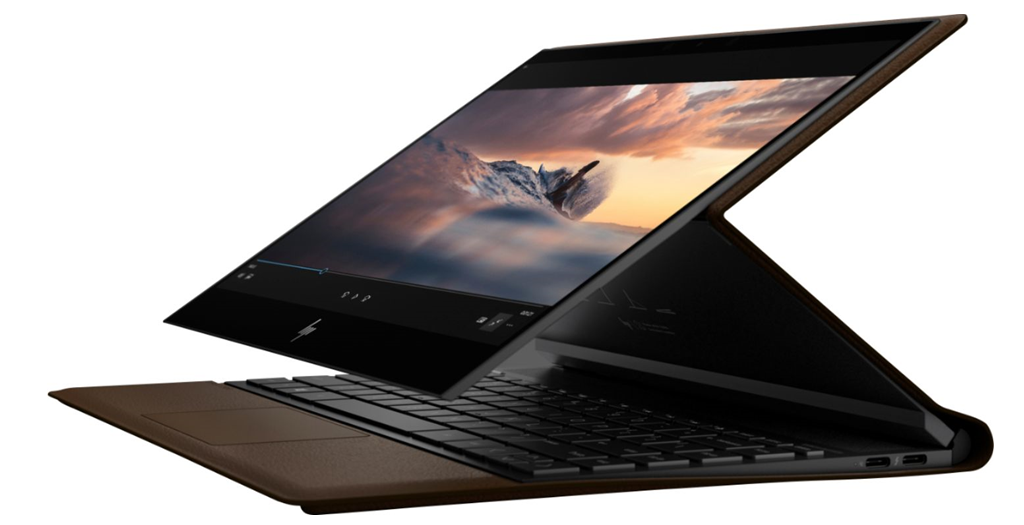 HP Spectre Folio: unique metal and leather design
Also, unlike other convertibles, Folio actually protects its keyboard while in tablet mode. This helps prevent wear and tear.
When it comes to processing power, the Spectre Folio is more form than function. If your customers are cutting video or crunching big data, this probably isn't their computer.
However, that's not really a strike against HP's leather-clad pad. By choosing Intel's low heat, high-efficiency 8th generation Y-series processors, HP's designers made it clear they're more focused on the amazing 18-hour battery life. For the stylish worker on the go, it's a smart choice.
And for tech providers, there's another attraction. The higher average selling price of ultraslims can help boost sales even as overall PC sales decline. That's a big boost from a slim design.
If your customers seek the perfect combination of power, flexibility and portability, tell them to go ultraslim.
Back to top