The Microsoft Surface juggernaut continues to impress.
Late last month the company revealed that Q3 sales of Surface devices totaled $1.34 billion, a year-on-year rise of 1%.
And this week Microsoft announced 2 new Surface devices as well as accessories that include headphones, earbuds and a docking station.
It seems the Surface devices are riding on the accelerating progress of the Windows 10 operating system. This week, Microsoft's chief product officer for Windows and devices, Panos Panay, blogged that the company now has 1 billion Windows 10 monthly active devices. Those users, he added, now spend over 4 trillion minutes a month on Windows 10, a year-on-year increase of 75%.
New Surfaces 
Here's a quick look at the new Surface devices:
Surface Go 2: This update on Microsoft's most affordable Surface 2-in-1 device adds a larger 10.5-inch PixelSense display, longer battery life (from 9 to 10 hours), dual mics, and a 5MP front-facing camera. Shipments begin on May 12, with retail prices starting at about $400.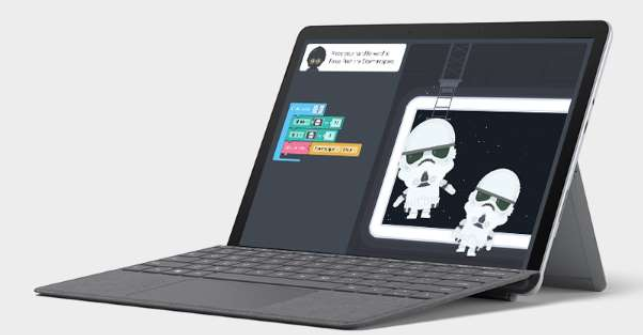 Surface Book 3: A serious laptop with your choice of a 13-inch or 15-inch display, 10th Gen Intel Core i5 or i7 processor, Nvidia GeForce GTX or Quadro RTX GPU, and up to 32GB of RAM. Also, the display can be quickly detached and used in tablet mode. Shipments begin on May 21, with retail prices starting at about $1,600.
Surface Headphones 2: It's what you don't hear that matters, so these headphones feature 13 levels of ambient noise control and adjustable noise cancellation. Shipments begin on May 12, and the retail price is set at $250.
Surface Earbuds: Well, they're wireless earbuds. Shipments start on May 12. They'll retail for $200, so you won't want to lose them.
Accessories: These include the Surface Dock 2, which will retail for $260, and a USB-C Travel Hub that retails for $100.
The press: impressed
The new Surface devices have gotten a warm reception from news and tech sites.
Gizmodo, for one, suggested that the Surface Go 2 is "the best budget laptop." The site added, "If new guts really improve its speed, then this could be the budget device to get."
Paul Thurrot, writring on his Thurrott.com site, says the Surface Go 2 "absolutely has the level of build quality we've come to expect from the more premium Surface offerings." He adds, "It just looks and feels like a miniature Surface Pro, not a cheap knock-off." Though he does complain about the keyboard, which he describes as "tiny."
Ars Technica's reviewer was mostly impressed, but did note that the Surface Book 3 lacks a Thunderbolt 3 port. That means users won't be able to connect an external GPU. "While it's true that not everyone would make use of the standard's full capabilities," he writes, "the omission may still be a sticking point for those who want their premium laptop to be as capable as possible."
CRN described the new Surface devices as "somewhat more unusual," pointing to the Surface Book 3's detachable display, which can function as a tablet. And it listed 6 things you should know about the new Surface devices.
Impressed yet? 
Back to top