If your PC-using customers haven't yet asked you about Thunderbolt 3 technology, they will soon.
And rightly so. With transfer speeds up to an astonishing 40 Gbps, a Thunderbolt 3 port is today's gold standard for moving data to and from peripheral devices in a hurry.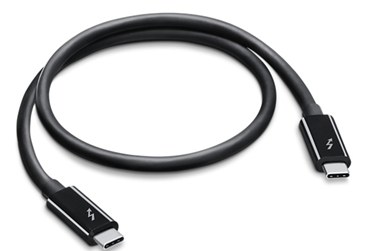 Thunderbolt 3 cable: today's gold standard
But Thunderbolt is also a tricky needle to thread. While it may be the fastest interface, widespread adoption eluded both earlier versions, Thunderbolt 1 and 2. That was due to relatively high costs, technical hurdles and a marked lack of external devices.
Is Thunderbolt 3 different? Yes, but only if you're armed with 3 important facts:
1) Thunderbolt 3 plays nice with USB-C
In a stroke of genius, the powers that be decided to give both standards the same plug.
This means all USB-C cables will fit into a Thunderbolt port. And all Thunderbolt cables will fit into a USB-C port.
It also means those cables will, at the very least, deliver a 10 Gbps data stream. Plus enough power to charge your cellphone.
Compatibility with USB-C is a small but powerful detail. And one that should save OEMs and consumers alike both time and money.
2) The cable matters — a lot
The key words to look for are "active" and "passive."
Passive Thunderbolt 3 cables are relatively cheap. A decent 6-foot passive Thunderbolt 3 cable retails for just $10 to $20. It's identical to a USB-C cable and will get you speeds of up to 20 Gbps — the same transfer rate as Thunderbolt 2.
Active cables, by contrast, include an integrated chip. This component is needed to achieve the maximum 40 Gbps throughput.
For an active Thunderbolt 3 cable, your customers should expect to pay $30 to $60. Yes, that's a lot for a cable. But if they're streaming 5K content or data from an SSD RAID-array, it's the only way to fly.
3) High-performance peripherals open a world of possibilities
On the surface, an Ultrabook such as the Thunderbolt 3-equipped ASUS ZenBook 3 Deluxe appears to be a "yes, but" device.
Is it thin and light? Yes, but there's not much storage space. Can you play games and edit media? Yes, but the graphics card isn't very powerful. Does it have a good display? Yes, but it's small and can't handle 5K content.
With Thunderbolt 3, all that changes. Resolution junkies can stream in full 5K glory by connecting a UHD display via an active Thunderbolt 3 cable.
Ultrabook-toting gaming fanatics can connect an external graphics processor such as the AORUS GTX 1070 Gaming Box. Connected with a Thunderbolt 3 cable, this device, which retails for about $600, turns an ultrabook laptop into a high-speed gaming platform for graphics-intensive and VR-ready games.
AORUS GTX 1070 Gaming Box turns a laptop into a gaming platform
What's more, exabytes of super-speed SSD storage are just a click away — no desktop required. Just connect an external RAID-array such as the AKiTiO Thunder3 RAID Station. This device, retailing for about $370, connects to a laptop with a single Thunderbolt 3 cable, giving the user connections to any dock, display or data device.
AKiTiO Thunder3 RAID Station: via Thunderbolt 3, expanded connections
As Thunderbolt 3 adoptions grows, so too will the options you can offer your customers. So start the conversation now. You'll be doing your customers, and your business, a favor.
Back to top