That's the new math on mini-PCs from Intel.
Intel has offered its NUC (short for Next Unit of Computing) devices for some time, but until now, only as bare-bones kits for tech builders. That meant you had to install an OS, memory, storage, apps and more before Intel's mini-PC was usable.
No more. Now Intel is also offering many versions of its NUC mini-PC as ready-to-use turnkey systems. Each comes complete with a preloaded copy of Windows 10 and platform drivers, all configured and tuned by Intel for optimal performance.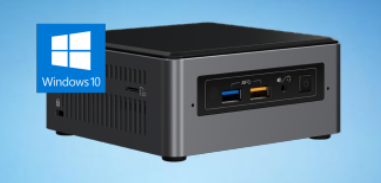 Under the hood of these space-saving mini-PCs, you'll find the latest Intel Core processors and the latest Intel technology. That includes options with Intel Optane memory, Thunderbolt 3, integrated Wi-Fi, MicroSD expansion slot and more.
You and your customers can also rest easy with Intel's solid 3-year warranty. 
Pick your canyon
Intel currently divides its NUC systems into 2 main product lines: one for commercial applications, and the other for consumers.
For commercial use, Dawson's Canyon is the code name for Intel's mainstream line of NUC systems for SMBs. This line is now available as turnkey systems based on a choice of 7th Gen Intel Core i3 or i5, with Win 10 Pro options, or an 8th Gen Intel Core i7 quad core processor with vPro Technology as a bare-bones kit. Retail prices for the Win10 NUC systems start at $465.
The mainstream consumer NUCs are currently 7th Gen Baby Canyon, which will be replaced by 8th Gen Bean Canyon later this year. These ship with fully complete variants, including large HDDs with Intel Optane Memory, or SSDs.
The consumer lineup also includes Hades Canyon enthusiast NUCs, which are higher-end systems designed for content creation and as workstation replacements. These systems are powered by 8th Gen Intel Core i7 processors with Radeon Vega M graphics. They'll be available in Q3 of this year as fully complete systems.   
Nearly all the Intel NUCs are available as fully complete systems with Windows or bare-bones kits. But if you really want to get down and dirty, Intel also offers NUC boards.
Available separately from a kit, these boards measure 4x4 inches and come with a soldered-on Intel processor. Currently, there are 6 options, ranging in retail price from $126 to $575. The Intel processors offered on these kits range widely, too, from an Atom E3815 all the way up to a Core i7 vPro.
NUC notes
Here are some other facts you may not know about the Intel NUC mini-PCs, but should:
> They measure just 4 x 4 inches, making them perfect for tight spots such as a retail counter, conference room or home office.
> They're optimized for energy. NUCs use less power than a full-sized PC — and they're Energy Star-certified — yet they can provide the same immersive experience and level of responsiveness.
> They're scalable. Small and easy to install, NUCs can be added quickly as your customers grow.
Now you know about the newest NUCs.
Want to give it a spin? Assuming you or your customer are based in the U.S., you may be eligible to check out a NUC demo system through the Intel Technology Provider program.
Back to top