MSI may not sell as many PCs as the leading suppliers (Dell, HP, Lenovo, et al.), but what the company lacks in unit shipments, it tried to make up for with innovation.
Much of that innovation is aimed at its core market, gamers. But last week MSI introduced new desktop and laptop PCs designed for another group of users: content creators. Among the cool new features on these devices are the latest 9th and 10th gen Intel Core processors.
Creator laptops
MSI introduced three content-creator laptops with up to 10th Gen Intel Core i7 CPUs: Prestige 14, Prestige 15, and Modern 14. These Windows 10 Pro devices are designed for photographers, animators, composers, video editors and other mobile content creators.
The Prestige 14 and 15 are actually older models that now take the new Intel Core 6-core processors along with a GeForce GTX 16 GPU for graphics.
Content creators need sharp images, so these laptops have advanced displays. The Prestige 14 and 15 offer 4K ultra HD technology with 100% Adobe RGB and an optional Thin Bezel IPS-level panel. The Modern 14 offers a 14-inch full HD display with nearly 100% Adobe RGB.
The performance gains are impressive. For example, MSI says editing Photoshop is 40% faster. It also says users can simultaneously create on multiple 2D and 3D applications without experiencing any lag.
Battery life is impressive, too: 16 hours for the Prestige 15; 14 hours for the Prestige 14; and 10 hours for the Modern 14.
All 3 devices are pretty light. The Prestige 14 weighs 1.29 kg (2.8 lb.); the Prestige 15 weighs 1.6 kg (3.5 lb.); and the Modern 14 weighs just 1.19 kg (2.6 lb.).
MSI hasn't announced prices yet. But these MSI laptops will be available for pre-order on Aug. 21 from retailers including Amazon, B&H and Newegg.
Creator desktop
Many content creators work from the same office every day, so they don't need to make tradeoffs for mobility. MSI has a new desktop + display combo for them, the Prestige P100 desktop and Prestige PS341WU monitor.
Under the Prestige desktop's hood you'll find a 9th Gen Intel Core i9 processor. This desktop also packs 64GB of DDR4 memory and an Nvidia GeForce RTX 2080Ti GPU. The box is also pretty cool-looking, with chrome and white highlights.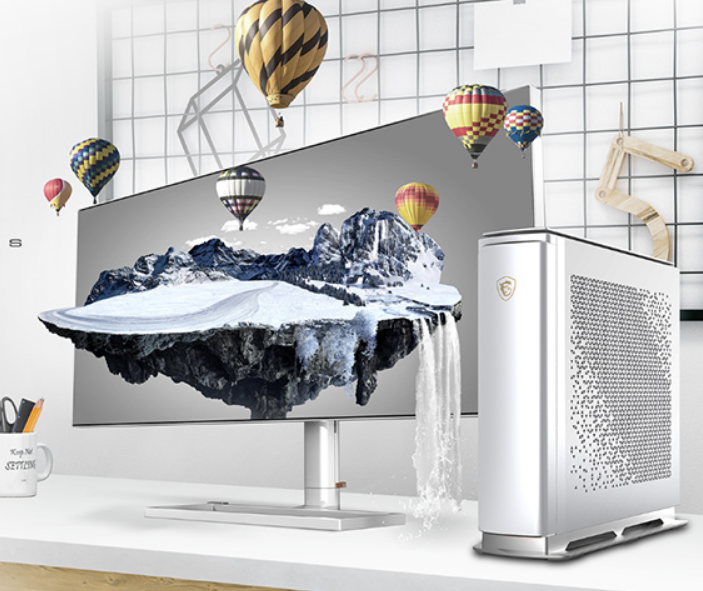 MSI's new Prestige monitor offers a 34-inch display with 5K ultra-wide resolution. It covers 100% of sRGB colors and 98% DCI-P3 standard for hues.
Pre-order the new monitor this month, and you'll benefit from MSI's special promotion. Retail partner B&H is offering a $200 store gift card for creators who pre-order before Sept. 29. Get more info on the promo from MSI here.
Back to top