The topic of yesterday's Business Compute Forum live chat was Intel Optane memory for desktop PCs.
And our guest speaker was Madhura Nataraju, Intel Optane memory product manager in Intel's client computing group. Here's some of what she covered:
Why do my customers need new types of PC memory?
Because performance computing is growing. In a survey, Intel asked users to name their top purchase drivers for desktops. It found number one was performance, followed by security of personal information and storage capacity. "Overwhelmingly, people value these three vectors," Nataraju said, "and that's what drives them toward purchasing desktops." 

Why would my customers need more local storage?
Because today's software demands it. Windows 10 desktop alone demands about 20 GB. High-end gaming can reach as high as 65 GB. Sure, users can get 2TB hard disk drives (HDDs) now. But that typically involves a tradeoff in overall system performance.
Solid state drives (SSDs) offer higher capacity, and they're catching on. But they're still most costly than HDDs. As a result, 80 percent of desktops shipped this year are expected to have HDDs.
What is Intel Optane, and how can it help?
Optane combines hardware and software to increase both storage capacity and overall system performance.
The hardware is 3D XPoint memory media jointly developed by Intel and Micron. It's put into a standard M.2 connector. And the software — what Nataraju called Optane's "magic sauce" — is the Rapid Storage Technology (RST) driver. It's essentially a caching solution that pairs 2 drives (HDD and Optane memory module) into one volume, monitors which files are frequently touched and used by the user, and then moves those files into the Optane memory module for faster access.
Optane memory is available now in both 16 and 32 GB capacities. And it supports PCs running on 7th Gen Intel Core processor family CPUs.
What kinds of performance gains are possible?
Intel Optane provides an overall performance improvement of up to 28 percent, according to the SYSmark score, Nataraju said. Everyday tasks are 2 times more responsive. Web browsers launch up to 5x faster. Games launch more than 65 percent faster. And searching/finding business files on the PC is about 4x faster.
Which types of PCs users will get the most benefit from Intel Optane?
Mainstream PC users. As shown by the graphic below (courtesy of Intel), the market can be thought as 3 submarkets: mainstream users, performance users/mid-range gamers, and enthusiast gamers. The pyramid illustrates the fact that higher-performance markets get progressively smaller. Intel Optane memory is designed for mainstream PC users, the biggest market.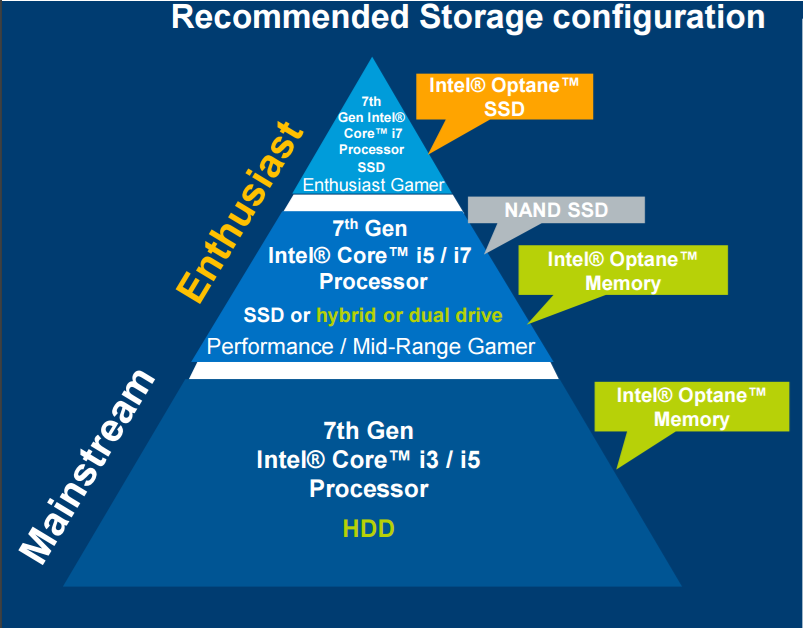 "Intel Optane memory is great for the entire ecosystem," Nataraju told our chat attendees. "It can really help to grow your topline revenue."
Learn more:
View Madhura Nataraju's full presentation deck, Intel Optane: Grow Your Business with Intel (PDF).
Listen to an audio replay of the live chat.
View a transcript of the live chat.
Get more info on Optane technology, FAQ, installation details and more from Intel's main Optane Memory page.
You may also enjoy:
Intel Optane memory delivers speed, density, non-volatility
Intel Compute Card, shipping in Aug., offers big power, tiny format
Intel intros Core X-series processor family at Computex
Back to top