PCs with the new 8th Gen Intel Core "Coffee Lake" processors are popping, and the latest is Microsoft's new Surface Book 2, introduced today.
Microsoft says the new device, which comes in 13.5-inch and 15-inch versions, offers the power of a desktop, the versatility of a tablet and the freedom of a laptop.
That power comes from a choice of 8th Gen Intel Core i5 or i7 processor. There's also an optional Nvidia GeForce GTX 1050 or 1060 graphics processor with up to 6GB of graphics memory.
The versatility comes from the device's removable display. It can also be twisted and turned, allowing the device to be used in a range of laptop, tablet and tent modes.
The freedom comes from the device's relatively light weight. The 13-inch version weighs 3.38 lb., and the 15-inch version, 4.2 lb. That's not super-light — compare, for example, HP's recently updated Spectre 13 laptop, which weighs just 2.45 lb. But it will do.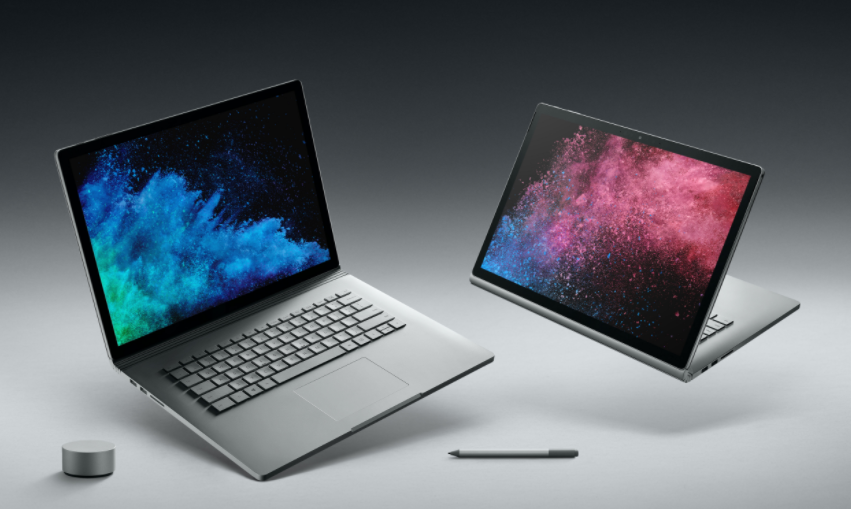 Microsoft's new Surface Book 2 laptops
Other features include battery life of up to 17 hours; USB-A and -C ports; support for both Surface Pen and Surface Dial devices; and a touch display with more than 4,000 levels of pressure sensitivity.
Pre-orders start on Nov. 9, and shipments are set to begin on Nov. 16. Retail prices have been set at about $1,500 for the 13.5-inch version and $2,500 for the 15-incher.
Windows 10 Fall Creators Update
Today is also when the latest version of Microsoft's Win10 OS, the Fall Creators Update, starts shipping.
New features of the OS include a mixed reality viewer; updated Photos application; new Cortana features (shut down, restart, and sleep); Edge browser enhancements; simpler shopping on Microsoft Store; and Windows Defender Exploit Guard, a new security feature.
3D support has been added, too, and users can now combine 3D with traditional Office apps — Word, PowerPoint and Excel.
Mixed reality uses the PC's camera to combine real and unreal 3D objects
The mixed reality feature of Win10 is being supported by new MR headsets from Acer, Dell, HP, Lenovo and Samsung. Prices for these MR headsets start at around $400.
Users of Windows 10 who have signed up for automatic updates will get the update, well, automatically. Advanced users can download it manually. Microsoft has posted instructions here.
Surface Mouse
Microsoft also introduced today a mouse pointing device, the Surface Precision Mouse, which adds 3 customizable buttons, bringing the device's total to 6 buttons. These new buttons can be used, for among other things, to pair up with as many as 3 computers, making it easy to switch among them.
For systems running Windows 10, the new mouse can be connected via either Bluetooth or a USB port. For older Win7 systems, connection via a USB cable is the only option.
Microsoft's new Surface Precision Mouse
Pre-orders for Microsoft's Surface Precision Mouse will start on Nov. 6. Shipments will start on Nov. 16. The retail price has been set at about $100.
Put it all together, and you have one busy day for Microsoft. And one exciting day for solution providers with customers seeking powerful new laptops.
Back to top