Q: When is a Chromebook not really a Chromebook?
A: When it's a new system from Microsoft.
Microsoft yesterday introduced its response to the Chromebook juggernaut: a new, cloud-friendly laptop and a stripped-down version of its Windows 10 operating system.
Both are aimed at helping Microsoft and its hardware partners compete in the K-12 education market. Chromebooks currently control about 60 percent of that market, and the Windows crew would like a share.
If you serve the education market, Microsoft has just given you another option to offer your customers.
Price, OS Differences
It's not that simple, of course. While Chromebooks can be purchased for as little as $150, Microsoft's new Surface Laptop has a starting retail price of just under $1,000. Its price rises as high as about $2,200, depending on processor, storage/memory capacities and other options.
Also, the new Microsoft laptop runs Windows 10 S, a just-announced version of the Win10 OS. Unlike "regular" Win10, Win10 S can run only apps obtained from Microsoft's Windows Store. Apps downloaded from a desktop, such as the Chrome and Firefox browsers, won't run. Also, Bing has been selected as the OS's main search engine.
The price issue should be helped by Microsoft's hardware partners. HP and Acer both introduced hardware systems yesterday, both running the new Windows 10 S OS and both retailing for a much lower $299. They are the HP ProBook x360 Education Edition, and the Acer TravelMate Spin B1. Both offer 11.6-inch touchscreens, 64GB of storage and 4GB of memory.
Surface Laptop Details
All that said, the Microsoft Surface Laptop is pretty cool. It features a sleek design, 4 designer colors (platinum, burgundy, cobalt blue and graphite gold), weighs 2.75 pounds, and promises up to 14.5 hours of battery life. There's also a fabric-covered keyboard, Dolby premium audio and a 13.5-inch PixelSense touchscreen.
Under the hood, you'll find a choice of 7th Gen Intel Core Processors (either the i5 or i7), and up to 512GB of SSD storage and 16GB of memory. As of now, Microsoft is offering 4 models:
> Intel Core i5, 128 GB SSD, 4GB RAM, platinum only, $999
> Intel Core i5, 256GB SSD, 8GB RAM, all 4 colors, $1299
> Intel Core i7, 256GB SSD, 8GB RAM, Intel Iris Plus graphics, platinum only, $1599
> Intel Core i7, 512GB SSD, 16GB RAM, Intel Iris Plus graphics, platinum only, $2199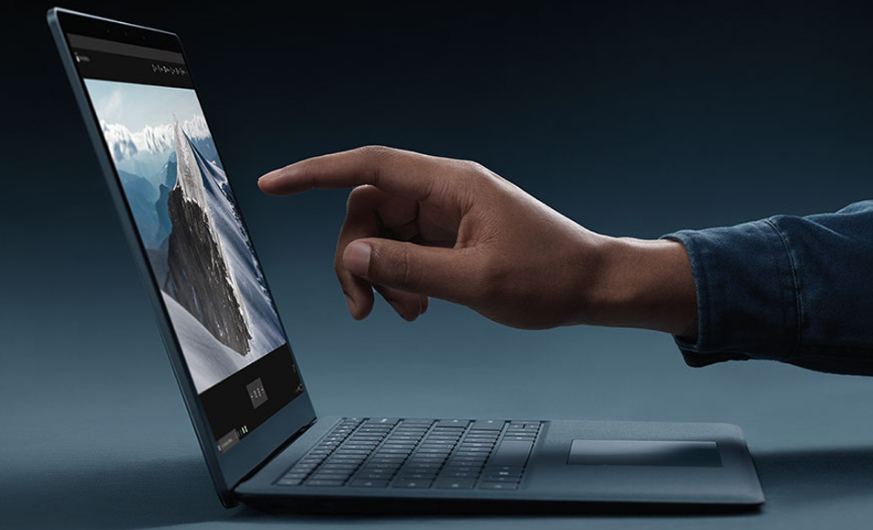 The Surface Laptop is available for pre-order now in 20 countries, including the United States, France, Germany, the UK, Australia and New Zealand. Shipments are set to begin on June 15.
Accessories from Microsoft for the Surface Laptop include a Surface Dock (retailing for about $200), Surface Arc Mouse ($80), and Surface Dial ($100).
There are some freebies, too. Any school running Windows 10 systems will be able to get an upgrade to Win10 S for free. And anyone purchasing a Microsoft Surface Laptop before Oct. 15 of this year will also get a year of Office 365 Personal.
Also see:
Acer's new 2-in-1s, gaming systems, notebooks
Windows 10 Creators Update: what's new
Intel now shipping Optane memory for PCs
Back to top