The new Surface Go, introduced just last night, is the smallest and least expensive member of Microsoft's Surface family.
The Microsoft Surface Go measures 9.65 x 6.9 x 0.33 inches. Weighs 1.15 pounds without its keyboard. And has a starting retail price of just under $400.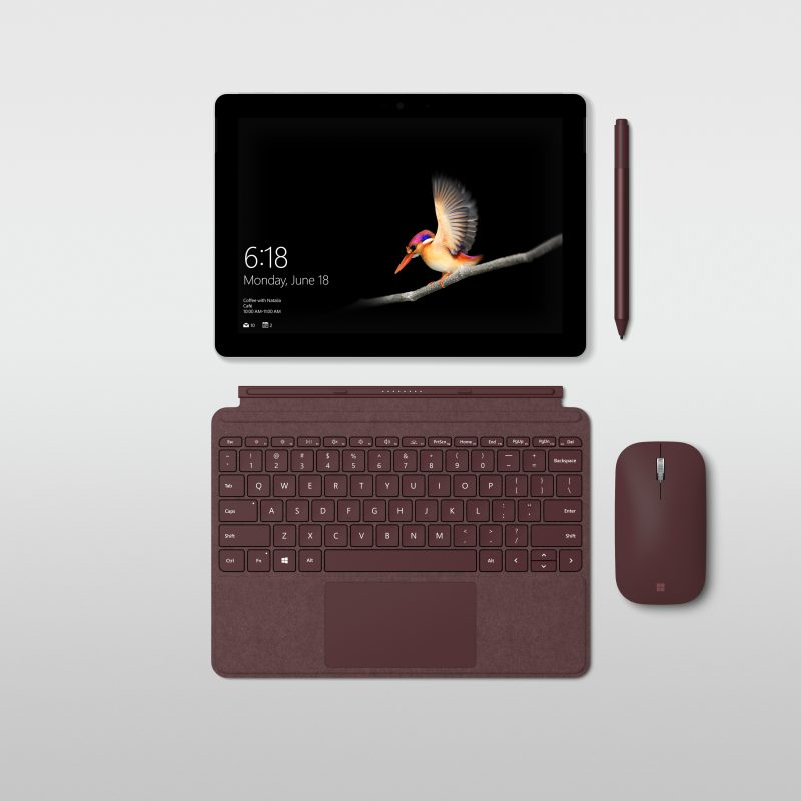 Microsoft's Surface Go: 10 in., 1.15 lb., under $400
Under the hood you'll find a 7th Gen Intel Core Gold 4415Y processor, Intel HD Graphics 615, a choice of 4GB or 8GB of memory, and a storage choice of either 64GB of eMMC or 128GB of SSD. The OS is Windows 10 Home in S mode, although a "for business" option gives you Win10 Pro (more on that below).
The Surface Go is a detachable, meaning it's essentially a tablet form factor that can attach to a keypad. The keypad will cost extra $100 or so, and so will the supported Surface Pen.
In portrait mode, the Surface Go's screen was designed to render the page to the scale of a common school textbook. In landscape mode, it can render pages side by side, almost as if you were holding a paperback book.
The basic model, designed for students and consumers, runs Win10 Home in S mode, which means it runs only apps approved for Microsoft Store. Add the Type Cover keypad, extra memory and storage, and the price gets closer to $650.
For business
The Surface Go for business is similarly configured, but takes a different OS and can attach to additional peripherals. As mentioned, the OS is Win10 Pro. And those other devices include the Surface Dial and Surface Dock. The latter lets the user attach a Surface Go to an external monitor and full-sized keyboard.
The Surface Go for business supports Microsoft 365, which includes the company's Teams, OneNote, Office 365 and Outlook applications.
Supported apps for the business version of the Surface Go include Adobe Acrobat DC; DocuSign, an app for signing digital documents; Lifeliqe, for creating 3-D educational content; Chineasy Story Builder, language-learning software; Manhattan Active Omni retail connection to mobile devices; and Procore, cloud-based apps for construction.
Fine-tuning
Microsoft clearly intends the Surface Go to offer many of the features of its more-expensive Surface devices, yet also be extremely portable and reasonably affordable.
To that end, Microsoft worked closely with Intel to fine-tune the device's processor for the 10-inch form factor.
The results seem pretty impressive. Pete Kyriacou, a Microsoft Surface general manager, told Wired that the graphics on the new Surface Go are 33% better than the graphics on the company's Surface Pro 3 running on an Intel Core i5 processor, and 20% better than the same device with an i7.
"So we're talking about Pentium processing," Kyriacou added, "but it's better from a graphics perspective than a Core processor was just three years ago."
Sound interesting? Pre-orders for the Microsoft Surface Go get started today. Retail availability is set for August 2.
Back to top